If you have ever owned a Porsche, then you know what a joy it is to drive one. Porsche owners are in a league of their own, and these sports cars have a history of being some of the most fashionable automobiles on the planet. With such brand popularity and a history of super-efficient Porsche models manufactured, it can be challenging to pick the best ones of all time. Going back to specific eras in time, these cars have always been the top-performing vehicles on the road. All of them are efficient, reliable, and practical. They aren't cheap, nor are they inexpensive to have serviced by a mechanic, but they are worth the expense if you have the money.
Here, we have curated a list of the three best Porsches of all time. It was hard to narrow the list down to the top three, as all of them have their unique features and iconic stories. Once this publishes, there will be plenty of people on social media arguing about this article, and we will all have our opinions on it. But this is our opinion, and these are our top Porsche cars of all time.
It is a magnificent car with proper proportions and the integrated pink pig 917. This flat-12 beauty is known widely for its gulf colors. A ferocious vehicle with speed and power that was unrivaled. This high-performance sports car was engineered at the highest level for its time.
Porsche 911 2.7 Carrera RS
The reason for this model making into this list is due to its valor combined with its lightweight build. Its speed and engine were such that it was a winner in many of the races worldwide. It was also developed with a motive to be used on the road; hence it was an efficient car in the Porsche range of consumer-friendly vehicles. The 911 is an iconic model and will always be a top 5 model for Porsche.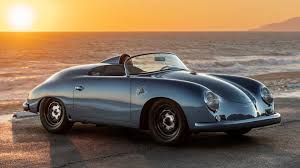 The last winner of this epic list is the Porsche 356. It is rear-wheel-drive and has a rear-engine, so it was not the most flexible model. However, it was powerful, compact (two-seater), and efficient. It runs smoothly with light motions while driving and is super comfortable to drive. The 356 is the type of car you would see in a James Bond movie, or British action movie. It is sleek, sophisticated, and top of the line. The older Porsche models like this are timeless and are considered collectors vehicles. Cars like this auction for six figures and beyond when restored using OEM parts.
Porsche cars are the most prominent sports cars seen globally. They are powerful, with each new modification bringing in more innovative features to enhance the power. Although, it has been a difficult task to narrow the list to the top 3 Porsche of all time. We have chosen the Porsche 917, Porsche 356, and Porsche 911 as the best Porsches of all time.