Every house remodelling project requires good decisions and planning, no matter how simple it is. By making informed decisions, we could save our budget immensely. Good planning could also save our sanity and perhaps, even our house. It can be particularly challenging for homeowners to know everything that's above the ceiling, under the floor and behind the wall. Before a remodelling project, we may need to perform a thorough inspection of our house to reveal its actual condition. By evaluating the current condition of our house, we could make good planning and decisions, both in terms of money and time. Discovering and handling problems in the middle of a specific project may result in additional costs and substantial delays.
Many budget-busting issues can be solved easily during the actual design process and in many cases, we could avoid many problems altogether by making simple changes. With these changes, we could achieve much better designs for much less money. In case, we don't want or can't design around specific problems, at least we are able to resolve many of them. We could reallocate money from different parts of the project by choosing less expensive finish or deducing the overall scope. Perhaps, we could allow a larger budget, if the remodelling project seems to cost more money than usual. Either way, we need to eliminate as many surprises as possible to make informed, intelligent decisions. We should be armed with enough knowledge by using thorough drawing and proper on-site evaluations.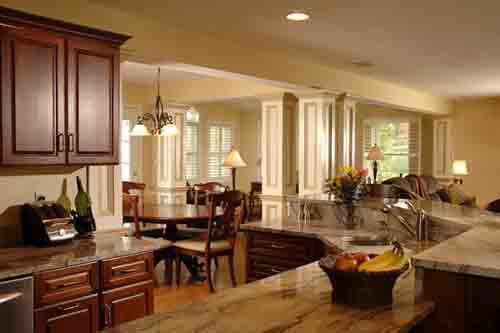 As often said, failing to plan is planning to fail. Before starting a project, we should figure out how to do that and the overall costs. Basement finishes, room additions and kitchens are examples of large-scale projects that should be designed first. Windows replacement, exterior painting and quick bath remodelling are things that we should consider. Regardless of the scope of our project, it is generally important to avoid jumping into projects without considering any of the ramification. Doing so could cause the project to run longer and this should invariably cost more money. As an example, during the garage remodelling project, we should consider where we need to store our vintage 1956 Thunderbird, for example.
Conventional wisdom says that we should solicit multiple quotes for our remodelling project and a good way to do this is by choosing a contractor. This could make sense on the surface, but can be rather confusing when it comes to comparing quotes and planning for the whole project. Contractors could have different ways in determining their requirements. They should help us calculate costs and they could advise the proper scope of the project. Contractors could make it easy for us to determine the bottom line, because they could explain us about probable costs. We should definitely talk to them about possible hidden costs! In the contract agreement, it should be mentioned clearly how to deal with hidden costs. Homeowners should only pay the amount agreed in the contract, but this also requires them to stick with the agreed scope of the project.