If you're traveling to the east coast, there are several things you don't want to miss out on. The region is known for its incredible seafood as well as scenic views, cute towns, and dozens of iconic historic lighthouses. If visiting some of the east coast's most beautiful lighthouses is at the top of your travel itinerary, here are several you wont want to miss out on.
Eastham, Massachusetts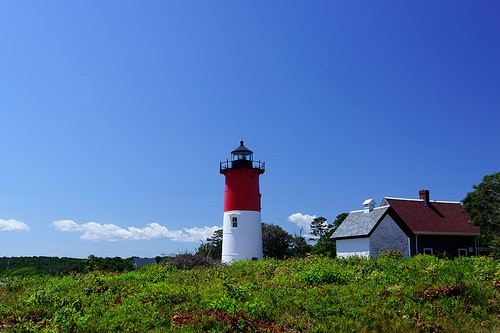 Eastham, Massachusetts, is home to the Nauset Light, one of the most well-known lighthouses along the east coast, and easily the most photographed lighthouse in Cape Cod. Made of cast iron with a brick lining and standing 48 feet high, the Nauset Light is nearly 150 years old and listed on the National Register of Historic Places. This classic lighthouse is a sight to see, still providing guidance to local boats after all this time.
Savannah, Georgia
Savannah, Georgia, is a beautiful city that is worthy of a visit for many reasons, not least of which is the gorgeous Tybee Island. Tybee Island has one of the top beaches in the US, making it a great place to spend a weekend. It also has two classic lighthouses to visit: Tybee Island Light Station, and Cockspur Island Lighthouse, making it a necessary trip for history buffs and nautical enthusiasts alike.
Cape Elizabeth, Maine
Open to visits throughout the fall and winter months, the Portland Head Light in Cape Elizabeth, Maine, is a picturesque view that you will be certain to fall in love with. On a clear day from the rocky cliff where this classic lighthouse stands, you can also see a few others: Spring Point Ledge, Ram Island Ledge, Cape Elizabeth, and Halfway Rock. Also , if you're looking for fun for the younger set, you can head out to Crescent Beach State Park, a great spot for swimming and sunbathing.
Scituate, Massachusetts 
The tower and keeper's house at Scituate Lighthouse are said to be the oldest complete lighthouse structures in the entire United States. And the tower–a solid structure built from granite and brick–is certainly built to last another 200 years as well. Built in 1811, and only actively used for a short time after that, the lighthouse has been restored to working condition, and was lit in 1996 for the first time in well over a century.
Now, the town of Scituate and the Scituate Historical Society offer tours though the lighthouse and grounds so visitors can experience this piece of history for themselves.
Virginia Beach, Virginia
Virginia Beach is a popular spot for family-friendly vacations, college spring break trips, and romantic getaways alike. It is also home to the Cape Henry Lighthouse, which was the first federally funded lighthouse in the United States. It was completed in 1792, overseen by then-president Alexander Hamilton, and remains in beautiful condition to this day. Visitors are invited to climb to the top of the lighthouse, except in stormy weather or extremely hot temperatures, and they are rewarded with picturesque ocean views as far as the eye can see.
Visiting lighthouses is an excellent way to spend a romantic holiday or a family trip. With so many great options, you can't possibly go wrong.