Norcross is mainly known as a suburb of Atlanta, Georgia, but it has a reputation all its own. The serene city is small, tranquil, and surrounded by woods, forests, and streams that invite exploration from locals and visitors who want to get to know another side of Georgia. You're never far away from boutiques, restaurants, and quaint bars, but you won't want to leave the trails and mountains surrounding Norcross, especially considering the abundance of outdoor activities that await you.
Catch a Laser Show at Stone Mountain Park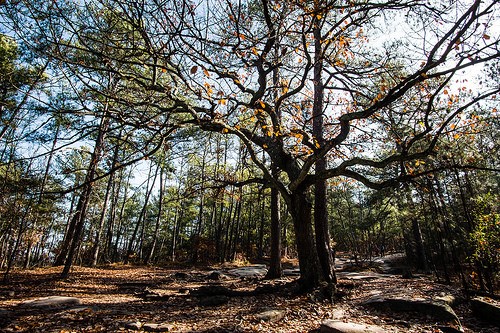 Although it costs each vehicle $10 to get into Stone Mountain Park, the small price is worth it. The park has several trails where you can walk off a robust picnic lunch. At the end of the day, you can either walk up the mountain or view the laser show — or find a spot on the mountain from which to watch the show. The choice is up to you.
Spend the Day in Simpsonwood Park
Simpsonwood Park, which is in the nearby neighborhood of Peachtree Corners, is the ideal place to spend a day during your time in Norcross. But it's not only merely a park. Encompassing 223 acres, Simpsonwood Park has a lovely pavilion, grills, and tables for barbecues and picnics, campgrounds, a volleyball court, and a meadow that begs you to come and pick wildflowers. A non-paved riding and walking trail meanders for 3.1 miles.
Get Your Splash on at Lillian Webb Community Park
Norcross has no shortage of parks. Each one offers a bounty of outdoor activities for visitors to enjoy. At Lillian Webb Community Park, a full splash park will help you come to terms with Georgia's notoriously humid, sticky heat and humidity. Even if you're not traveling with kids in tow, feel free to take a dip after a day of exploring.
Take in an Outdoor Concert
Throughout the summer, Thrasher Park welcomes guests to enjoy an outdoor concert series where musicians play in an amazing amphitheater. Since the park also contains a pavilion, a gazebo, a playground, and a number of picnic tables, you can make a day of your visit. In fact, given the abundance of parks in town, you may want to search for Norcross hotels close to at least one of them. Proximity to a park ensures that you're also close to a bevy of restaurants, shops, and bars.
Walk the GEHC Trails
The GEHC, or Gwinnett Environmental and Heritage Center, provides miles of beautifully maintained trails to explore. Start at the building itself, then commence a peaceful, scenic journey on the trail that winds through the forest close to Interstate 985. Afterward, walk through the Heritage Center's museum.
Norcross is more than simply a suburb of Atlanta. In addition to being a charming place to visit in its own right, it's also a great place to get away from the bustling activity of Atlanta. You can get in touch with nature, center yourself, and bask in the hospitality of the locals.