Barcelona is one of Europe's must see. If you decide to go there, we highly recommend you the visit the city in a fun way: ride a Vespa. We found Vesping a young startup dedicated to develop GPS guided Vespa tours. Here is why you should choose this alternative city trip.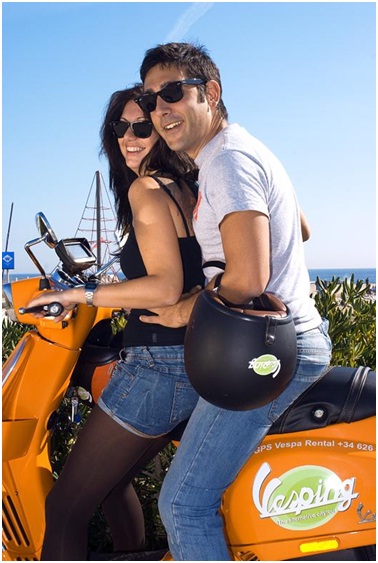 1. Barcelona is one of Europe's city with most scooters per inhabitant. It is easy to ride around with a two-wheel vehicle. There is no need to worry about where to park your Vespa cause you will find spots everywhere. Furthermore, it gives you more time and more ease to visit and see everything you had planned.
2. Vesping proposes 4 GPS guided tours: the Beach tour, the Gaudi tour, the Olympic tour and a Secret tour. When you decide to rent a Vespa, you will find it very easy to discover the best spots of Barcelona. The GPS will guide you throughout your entire journey. It also proposes you lots of different places to eat, shop, and do sightseeing. If you feel like you'd prefer to be guided by a professional, you can always choose to go on a daily tour or book a private tour, which can be arranged according to your specific demands.
3. It gives you an incredible sensation of liberty. You don't have to depend on any taxi or metro to go from one place to the other. Feel the sun and the wind blowing on your face, while enjoying one of the best places in Europe. With very few days of rain, Barcelona's weather will make it easy for you to ride around the city.
4. If you feel like you want to discover Barcelona's surrounding, rent a 125cc or a 300cc Vespa. It will give you more comfort on the road.
We are waiting you! VESPING.COM