Kitchens and bathrooms often last a lifetime, so when designing or building homes, following current trends are a key influencer. Need inspiration for your new project? Here are some of the key home interior trends for 2015.
Metallics in your Home
The recent popularity of gold and silver has impacted both the catwalks and in home interior trends, however, 2015 will be the year for soft copper and rose gold tones.
Create a feature wall of copper-toned mosaics or introduce the colours in fabric or wallpaper by incorporating warmth to industrial shades that can be blended into many areas of the home using accessories or even tiles. Industry in the homes is here to stay.
Tile and stone are ideal floor finishes for the bathroom or kitchen when enhancing comfort with underfloor heating, the system heating quickly and retaining heat well, making underfloor heating both reactive and efficient.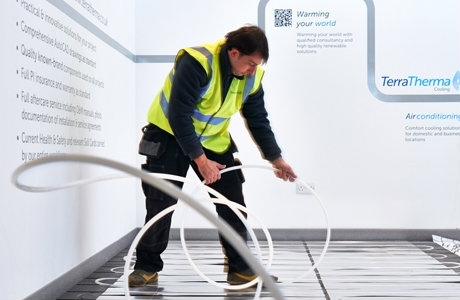 Trends in Colour
The global colour authority Pantone is at the forefront of setting colour trends. Announcing recently that their colour of 2015 is Marsala, making its way into home interior trends with a stunning yet resolute tone.
On trend in 2015 around the home to make spaces feel larger and reflect the light are soft neutral colours inspired by nature with quite a minimalist feel. There are also a broad selection of cool and soft tones with some deeper, warmer berry shades.
A Return to Natural Texture
Natural Stone is a good example, as it's full of character and has a rustic feel with a modern twist. It offers a timeless look that will last for years as long as it has the right care and maintenance. Used with underfloor heating, a perfect choice for keeping your feet warm on the colder days. Blended with wood effect tiles, the knots and whirls imitate the look and feel of real wood flooring, whilst also being very strong and practical in most areas of homes.
Bringing the outdoors inside is portrayed through décor and accessories. Patterned wallpaper or a mirror surrounded by distressed wood for a touch of natural texture is another good concept to suggest to homeowners.
Geometrics Shapes
Hexagonal mosaics, intricate shapes and eye-catching patterns. Interior magazines will showcase the hexagonal floor tiles, a great way to incorporate modern shapes in homes on a more low key level.
Traditionally monochrome, multiple colours blending together with slight hints of black are a hit. Tiles are laid in a linear pattern; however the herringbone trend is set to remain as the pattern of choice. Lay the brick-effect tiles like this for an industrial yet very modern look in homes.