When you were younger, you can probably recall someone in your life going through the crisis they liked to call "spring cleaning." You probably laughed it off. It wasn't the crisis situation they imagined, and it didn't affect you. Well, now you have a place of your own. And with it, you have a beautiful mess. And suddenly, spring cleaning is something you want to do. But what are the most effective ways of getting your home cleaned and organized? This article provides steps and tips you can follow in order to make sure your home is as ready for spring as you are!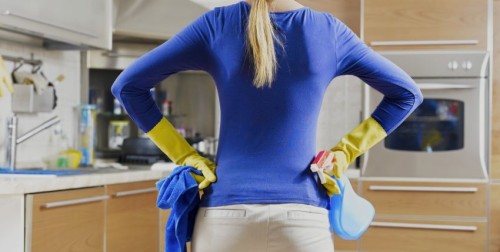 Step One: Consolidating the Clutter
Pack and Stack!
What can you do to organize when you have limited space? Pack it and stack it! Consider taking your old boxes you have saved – whether they be small shoe boxes or large appliances boxes – and use them for storage. Decorate the boxes with paint and stencils for a cute and cozy DIY look or buy pre-decorated boxes at your local craft store! They come in a plethora of shapes and sizes, so the possibilities are endless, and the space saved will be immense!
Shelves
High shelves elongate your living spaces, creating the illusion of more space while actually saving space! You can paint your shelves in order to customize them and compliment your designated colour scheme. Whether your take the DIY route or pick some shelves up at a nearby hardware store, they will be sure to remedy your space situation.
Consolidate!
Literally consolidate. Consider selling your old knick knacks and unworn clothes at a garage sale, consignment shop, online, or at community yard sale. You could even take things a step further by donating those gently used items to those in need! Make a difference, and make some space! Regardless of the route you choose, you'll save space and feel better once you clear the clutter!
Step Two: Become a Green Cleaning Machine
So, then comes the part that's not as fun as organizing, but it doesn't have to be a hastle. Once your living space has been reorganized, cleaning is so much easier.
Dusting
Most of this step will take place as you organize, but if it doesn't, start your spring cleaning with a thorough dusting, beginning with the picture frames, to the small appliances – don't forget to get any cobwebs hiding in the corner!
Deep cleaning
Odds are, your home could use a deep cleaning. At this step in the road, you have different options. Your best bet is to hire professionals who offer top-of-the-line cleaning services using environmentally friendly ingredients that are safe for your family and the world around us. Otherwise, when deep-cleaning carpets, kitchens, tiles, and other areas of the house, remember to use products that are gentle but work hard.
A Quick Once Over
Your spring cleaning ends once you've done a light sweeping, a quick vacuum, and finally opened up those windows to spring!
If you want to take things above and beyond, consider sprucing up your home by adding a splash of color, either permanently with new paint or temporarily, with deliciously scented, vibrantly coloured spring flowers. Throw down a brightly coloured rug over your newly cleaned floors, and kick up your feet! You have officially spring cleaned!