In general, we should be able to start our trip while we are feeling healthier than usual. We often need to walk and go out more often, so we should make sure that we are not afflicted with any kind of illness. There's nothing worse than losing all energy once we arrive in our dream destination. Exercising almost each day about six months before we go should make our journey a breeze. We could consistently increase our daily mileage and we should feel fitter. This would be useful when we need to carry a large backpack for miles.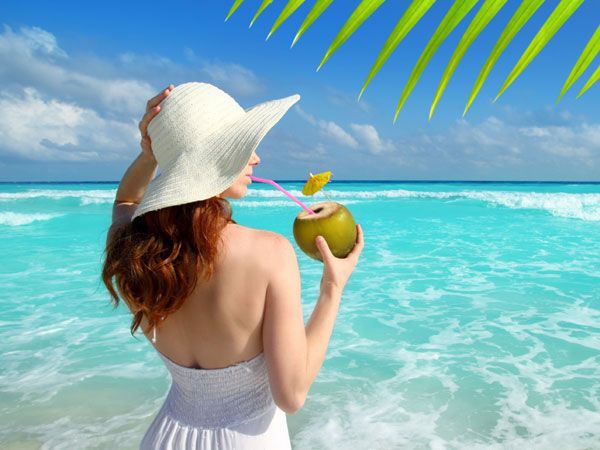 Look for healthy snacks: Fortunately, there should be plenty of healthy snacks available in our destination areas. We often habitually choose bad snacks during our travel and by bringing fruits in special containers, we could avoid those unhealthy foods. We could eat fruits that we have cut frequently in hotel rooms in bus, airports and other places. Fruits should be available in local markets. This should also be an opportunity for us to try local fruits that are not available in our own country. This is especially true for Westerners who visit tropical countries.
Book proper hotels: We should always book wisely and stay in hotels where we can more options. As an example, it is preferable to stay in hotels with kitchenette and gyms. This should also allow us to do various exercises, such as free weights, machine weights and cardio. It is also preferable to cook on our own than purchasing food from local restaurants, especially if we want to be sure that we can eat healthily. There are many simple recipes online that can allow us to cook healthy dishes while we are at other countries. Kitchens should also be equipped with essentials and stocked with basic ingredients, such as salt and pepper.
Perform exercise: The ability to perform regular exercise should be considered as something equal to the opportunity to eat and drink healthily. It shouldn't be used as an excuse to ignore something that we could regret later on. In general, we should be able to complete our regular fitness regimen, even if we stay in other countries. It should be noted that it would be much harder to get back on track. We should always try to keep up with our usual fitness routine, so it would be much easier to continue things that we usually do at home.
Always walk: There should be many transportation options, but we should try to walk and climb anuthing when it is a possibility. We don't have to call the taxi if we could walk and in some cases, it is actually faster to walk when the city we are visiting is troubled by traffic jam. In this case, we should always move our body the old fashioned way and we would feel much better in the end. We could strengthen our body by climbing the stairs, riding a bike and walking leisurely.