Jalandhar, as the name itself blurts out, means 'inside the water'. This city is embraced by the two rivers, Satluj and Beas. Jalandhar is the oldest city of Punjab, and one of the oldest cities to India too. In fact, it was the capital of Punjab, before India's  independence, after which Chandigarh was established as the capital.
Over the years Jalandhar is well trotted by history aficionados, curious devotees and architecture lovers. If you too are one of a kind, Jalandhar won't fail to amaze you with its prestige. You can easily visit the city by airplane or train. Nowadays many cabs run to and fro the city, with the most sought after being, the Amritsar to Jalandhar to Amritsar taxi.
While Jalandhar is world renowned for its sportsmen, rather the sports industry, there also goes the manufacturing of plethora of other items here, like rubber and electric goods, automobile parts, sewing machines and other steel products, as well as handloom products. Along with these industries there are numerous places to visit in Jalandhar, which might steal your interest. Interested in a tour to Jalandhar? This article will give you a sneak peek of the city.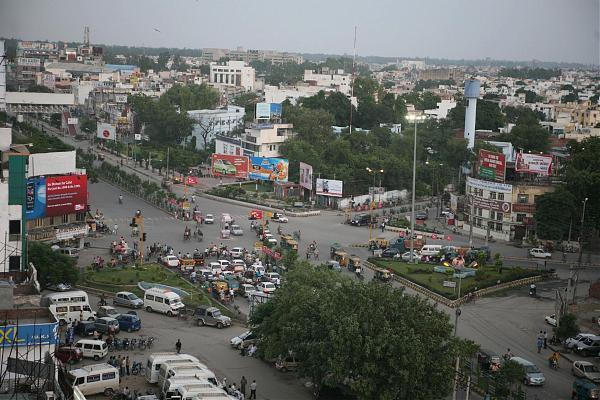 Imam Nasir Masjid and Jama Masjid
For the past 800 years, the Imam Nasir Masjid has witnessed the pleading hearts, wet eyes and folded hands of its devotees, and has cherished to fulfil their desired boons. It is a very popular mausoleum, that enshrines a sacred Dargah, which is believed to have been visited by Sufi saint, Baba Farid, who lived here and worshipped God for 40 days. This is a beautiful mausoleum, standing on four white pillars and built in the Mughal architecture.
Near this mausoleum, is the very popular Jama Masjid, which itself is 400 years old!
Devi Talab Mandir
This temple is worth stopping by! It is built on a pond, with a bridge leading the entrance of the temple. Very beautifully built, the Devi Talab Temple is considered one of the 51 Shakti Peethas by the Hindu mythology. It is believed that when Goddess Sati immolated herself, Lord Vishnu cut her body in many parts with his Sudarshan Chakra to thaw God Shiva, who was infuriated. The cut parts of her body fell at 51 different locations, across India and the Devi Talab Temple is the one Shakti Peeth, where her right breast got placed.
Rangla Punjab Haveli
If you wish to explore the culture and lifestyle of the bygone times in Punjab, this is the place you must not fail to visit, as every visit to Punjab is incomplete without an exploration of the Rangla Punjab Haveli. It, very beautifully depicts a typical village life in Punjab, where milking the cows, weaving, pottery, playing marbles, fetching well water used to be the routine activities. The evenings here, are garnished with sassy dance performances of bhangra and gidda, music shows, puppet shows, horse and camel rides, etc. You are bound to be taken aback by the warmth and hospitality of the Punjabis, serving the meals there. So, do not forget to gorge on the oil drowned Punjab's delicacies.
Wonderland Theme Park
Every corner of this amusement park, has truckloads of adventure awaiting you. There are numerous water and dry rides to enjoy to the fullest and let the child inside you kindle. You can perk yourselves up with the exhilarating Jurassic coaster, Rambo train, Playhouse, Frisbee or even shake a leg at the Break Dance. Don't forget to visit this amazing place to visit your family and friends.