Greece is known for many things but today we take out focus on the gambling side of things. Greece has always been a casino destination over the years and has been known to attract year-round tourists located on the mainland and even those that may even be located on the islands.
Most of the casinos are a combination of resorts, serving two purposes. In this article, we will focus on the ones that have caught our eye. With that, let's get started, shall we?
1. Club Hotel Casino Loutraki
This is one of the most luxurious casino in Greece and it also happens to be located beachfront. It offers a serene gaming facility that contains 1000 slot machines and 80 tables with games such as poker, American roulette and blackjack among others. To no surprise there is also a VIP room.
To no surprise, this casino is open 24 hours except on specific events. Asides from that, this resort offers a wellness center, an outdoor pool and has 3 restaurants, a nightclub, a private beach, a theatre and even 7 bars to facilitate. This hotel has been rated as a 5 star and happens to be one of the original casino resorts that has been around for sometime.
2. Casino Porto Carras
This casino has over 277 slot machines, 5 American Roulettes, 8 live touch roulettes, 7 blackjack tables, 3 Caribbean stud poker and Texas hold'em games available for their guests. There is also a VIP section that helps with the dealing of a winning hand. They also offer a lottery program where you can stand a chance to win unique prizes if you choose to participate.
Designed to fit into a grand casino resort this casino includes 3 hotels, a marina, a golf course and a villa for its guests. One of the main features available in the hotel is the spa that offers a variety of treatments such as rejuvenation and a fitness center too. Note that this hotel is built by the sea and due to this as well, you can go on boating or diving activities. I sense that I caught your attention.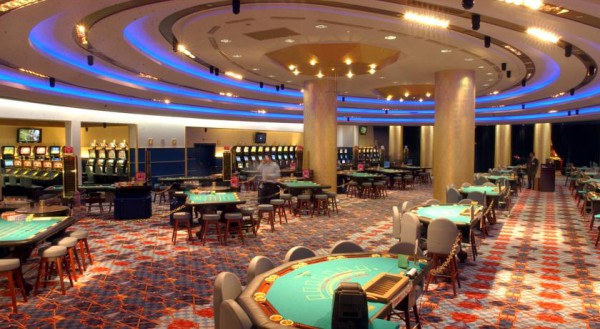 3. Corfu Holiday Palace
This hotel overlooks the Ionian Sea. This luxury hotel has been furnished with about 50 slot machines, a poker table, 4 blackjack tables and about 10 American Roulette tables available. This hotel offers relatively low stand out prices for its luxurious accommodations.
There are 5 restaurants located on the premises, a sushi bar as well as a bowling alley. Facilities such as a tennis court, fitness center and pools are also available. They also have a private beach where you can go to if you want to experience that as well.
4. Casino Flamingo
Located only 3 kilometers from the border, this casino is live and offers 8 American Roulette tables, several wide ranges of slot machines, 9 card tables that facilitate blackjack and other games such as the Caribbean stud poker and 4 Texas hold'em poke tables. If you don't speak Greek there is no need to worry the regulations and rules are in English and Greek and sometimes the local language so as not to pose a barrier.
When stopping by you can also visit their refined Greek restaurant that offers a buffet style serving. Asides from that you can also visit their night club or fitness rooms or the spa where you can go into the sauna, steam room and or hot tub.
And last but not least but to complete the list is:
5. Regency Casino Thessaloniki
This is one of the biggest casinos that is located in Greece. It is also a popular entertainment destination of Thessaloniki the town that it is located next to. The casino covers 1300 square feet that is filled with gaming features with over 900 gaming machines available for use and about 86 table and poker games attracting a vast number.
Lined with a beautiful hotel with about 152 rooms and 7 restaurants and 2 bars one is able to experience only the best here. Other facilities available include, a modern business center that can host several events as well as a convention center, the Marina a private gaming areas and swimming pool Access. Don't miss the ultimate gaming experience!
Charmaine Kedmenec grew up in Australia, but also traveled a lot in Europe, in free time she likes to play at Casino Games