Bathroom makeover projects usually top the list of home improvement plans primarily because the bathroom is the most frequently used room. Besides increasing the value of your home, bathroom renovation also improves the quality of your life. It gives you a very comfortable and calming environment where you can simply relax and refresh yourself. Although bathroom renovation can be a daunting task, proper planning helps you undertake the whole project in an easy and convenient manner. Here are the top 5 aspects to consider when renovating your bathroom: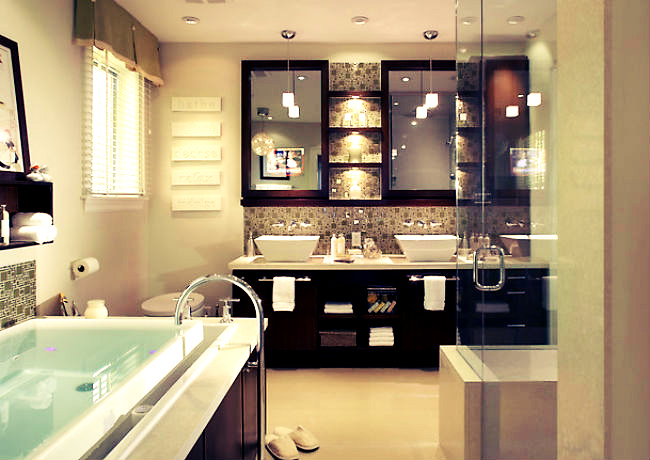 The visual image of your bathroom will be determined by your choice of paint. Moreover, the overall décor gives your bathroom that unique feel and look you desire. You should choose a color scheme that is soft on the eyes and also give an illusion of a spacious bathroom. Avoid bright or sharp colors when painting your bathroom. However, if you really want them you can save them for other contrasting features. It's a great idea to use neutral colors or pastel tones to ensure that your bathroom offers a nice environment for relaxation.
There is a huge variety of shower tiles available including ceramic tiles, granite tiles, glass tiles, stone tiles and others. Therefore, you should start by understanding the style of your bathroom. Do you want to have a traditional feel or contemporary feel? You can also have a neutral color scheme or an aquatic style. There are limitless options and are mainly based on your personal choice. For instance, you might consider using porcelain tiles for your shower unit because they retain their color and aesthetic appeal for many years.
One of the most vital elements of your bathroom is the flooring which should be durable and water resistant. Ceramic tiles, stone and marble are some of the most attractive bathroom flooring options. On the other hand, you can use hardwood floors that offer natural warmth. Moreover, you may prefer the rustic appearance of hardwood floors as compared to stone floors. It is vital to ensure that hardwood bathroom floors are well sealed. You may also prefer durable and smooth tiles such as ceramic because they also provide a clean and stylish look. Ceramic tiles are easy to clean and maintain but they are higher in cost compared to other materials such as laminate flooring. However, Tiles are a safer option mainly because laminate flooring is very slippery especially when wet.
Bathroom vanity units can be used to display a unique decorative style that reflects your taste and personality in your bathroom décor. Vanity units are available in a very wide range of styles, shapes and sizes. Therefore, you can invest in stylish and more elegant options. For instance, you can avoid using a blocky cabinet and use a stylish pedestal sink if you want to have refined lines. This is the perfect place to express your ideas and decorative flair. Bathroom vanities enable you to establish a style and design which can be reinforced using different counter surfaces, fittings, bathroom accessories and bathroom features. For instance, if you are looking for a country style vanity appeal you can start with pine wood cabinets with a subtle painted finish or a light stain.
Natural lighting creates the illusion of a more spacious bathroom making it look less cluttered. Besides making your bathroom more open and fresh, using natural lighting is an energy efficient option. You can provide natural lighting by simply adding a skylight or window in the bathroom. This is a good option because it also provides a great exterior view to enjoy.
Bathroom makeovers usually involve a wide variety of tasks from carpentry to plumbing. Therefore, you may need to hire professionals to handle these tasks especially the intricate tasks. However, this largely depends on the work your bathroom remodeling project will entail. It is also vital to ensure that your new bathroom is energy efficient and safe. This can be achieved by using non-corrosive and moisture resistant materials for the plumbing and wall materials. You can also analyze the state of your sealants and windows. Problematic or rusting tubs and showers should be replaced not only for aesthetic purposes, but also to enhance the safety of your bathroom.