A luxury getaway in the shadows of the breathtaking Burmese Mountains is a vacation you will not soon forget. From championship golf courses to pristine pools and delicious restaurants, you will enjoy every moment of your stay.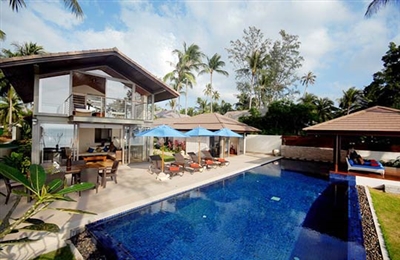 Relax and Play in Superior Comfort and Luxury
Make your next vacation an unforgettable one when you stay at Banyan, the resort in Hua Hin. You will find that it is the ideal vacation destination for families, golfers and couples. For residents in Bangkok and other nearby cities, it is the preferred vacation spot. You will marvel over the beautifully landscaped environment and enjoy the world-class facilities.
There are many desirable amenities to make your stay exceptional. There are one- and two- bedroom villas that are surrounded by beautiful landscapes and well-maintained pools and gardens. You will enjoy an infinite swimming pool, fun recreation for everyone, a relaxing spa, and a fully equipped fitness centre. There is also a children's pool to keep your young ones enjoying the pool while you relax and enjoy your stay.
When it comes to dining, you will enjoy five-star dining venues that offer delicious Thai and International cuisine. If you choose, you can even order your own in-villa dining, where a personal chef will come to you and cook your delicious meal while you relax. This is the ultimate in luxury! Come enjoy fine dining at the Lemongrass Restaurant. Experience enticing breakfast buffets and delicious Thai and International menus for lunch and dinner that include steaks and burgers, and are accompanied by an excellent selection of wines, cocktails, and ice-cold beer. For a more relaxed and playful atmosphere, come visit the Lemongrass Bar, where you will find darts, a pool table, and even a Wii video game system to enjoy with your friends and family. The sports bar environment offers International and Thai snacks and a great selection of drinks. During the peak of the day, the Splash Pool Bar is available to serve a wide range of tempting fare including pizza, burgers, snacks, and Thai dishes in a welcoming and relaxed setting.
Your villa is just steps away from the car park, and you will relax with on-site twenty-four- hour security for your comfort and safety.
Close to World-Class Golfing
If you are looking for the best 18-hole championship golf course, you need only to walk to the waiting shuttle, which will conveniently transport you to the most beautiful and well-maintained golf course in Hua Hin. You will play on pristine fairways that are surrounded by breathtaking views in every direction. The on-site clubhouse will cater to your every need.
As a guest at the resort, you will enjoy discounts for your golfing adventure that are sure to please. Every possible amenity is available for you to make every moment at the resort, the golf course, or the clubhouse a pleasant and memorable one. From comfortable villas, exclusive clubhouse suites, and relaxing spas to swimming and delicious meals and drinks, you will find everything perfect for your next stay in Hua Hin.