Alappuzha, popularly known as Alleppey, is the administrative headquarters of Alappuzha District of Kerala. The backwaters of Alappuzha are one of the most popular tourist attractions of Kerala tour packages. Regardless of the district you choose to visit in Kerala, the beautiful state will certainly reward you with a lush green surrounding and a serene atmosphere. Owing to the exotic beaches, endless backwaters, canals, sky-blue lagoons, Alapuzzha is the 'Venetian Capital' of Kerala. Here are some of the best places to visit in Alleppey—
Kuttanad Backwaters
One of the most sought-after places of Alleppey, Kuttanad is an amazing tropical region consisting of serene waterways, lakes, rivers, canals, and rivulets. Covering a distance of Kollam to Kochi, the length of the entire water body is about 150 km. Considered as the backwaters paradise, the four major rivers that flow in the region are Meechil, Pampa, Achankovil, and Manimala. The swaying of coconut trees and the swishing of winds add an exotic charm to this place. Try choosing a comfortable houseboat to make your journey through the backwaters enjoyable.
St. Mary's Forane Church
One of the most visited places in Alleppey, the beautiful church dates back to 835 AD. The church organises two festivals every year including the St. Mary's Feast (Third Sunday of September). There is an ancient and attractive statue of Sebastian exposed for public only during the feast festival. The regal look, the gorgeous decorations, and the feast make this place a must-visit spot in Alleppey.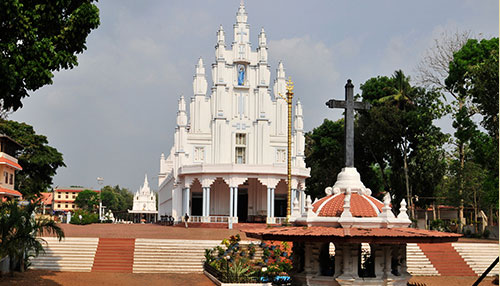 Alleppey Beach
Sparkling sands, beautiful waves, crystal clear blue water, and majestic views of sunrise and sunset is what that defines the beach of Alleppey. Known for its vast and endless stretches and swaying coconut trees, Alleppey Beach is one of the most sought-after beaches of Kerala tour packages. The beach holds a special place because of its importance in the maritime history of Kerala. The remains of Alappuzha Sea Bridge is one of the prime attractions here. You can also visit Sea View Park, Vijay Park, Bishop's House etc.
Pathiramanal
The name Pathiramanal means 'Sands of the Night', is a small island in Lake Vembanad on the backwaters of Alappuzha. The place is home to approx 91 species of birds and 50 species of migratory birds. The island is a bird watcher's paradise and is one of the offbeat tourist spots. With an absolute serene setting, the experience of walking through the island or taking a ride across Vembanad Lake is sure to impress you.
Nehru Trophy Snake Boat Race
The trip to Alleppey seems to remain incomplete without mentioning the boat racing activity. Also known as Vallam Kali, Snake Boat Race is an annual competition held in every August on Punnamada backwaters. Unlike the other boat races, this race has teams with at least 100 people rowing and singing together. Recognised as a cultural symbol, the boat race is one of the major highlights of the state.
Alleppey is a blend of natural beauty and cultural heritage. The tourist spots hold the versatility of the place in a wonderful way.