With its old-world charm, Manali serves as one of the best destinations for leisure holidays. From scintillating landscapes, snow-capped mountains to dense forests, gushing waterfalls, and a soothing climate, Manali tour packages have almost everything. The high waterfalls of Manali add charm to its natural surroundings. Here are some of the best waterfalls in Manali
Jogini Waterfalls
One of the captivating natural attractions of Manali, Jogini Falls runs down to join the Beas River in the Kullu Valley. Located near the Vashisht Village, the waterfall is nearly 3 km. trek from Vashisht Temple. The route passes through a narrow lane and goes through the tall pine trees, apple orchards, and small water streams. You can also enjoy the scenic beauty and the village life at Manali. There is a small temple dedicated to Goddess Jogini. The waterfall is sacred to the villagers who worship Goddess Jogini. The lush green surroundings, the gushing sound of water falling from a height, the chirping of birds are sure to leave you awestruck.
Jana Falls
Located at a distance of 34 km. from Manali, Jana falls is a beautiful waterfall in Jana Village. The village is a few kilometres away from Naggar. Surrounded by dense deodar and pine trees, apple orchards, and snow-capped mountains, Jana Falls is one of the best picnic spots in Manali. If you want a better view, you can trek up the hill to reach the top. The trek is fairly convenient and easy. The hilltop offers a better view of the overall surroundings.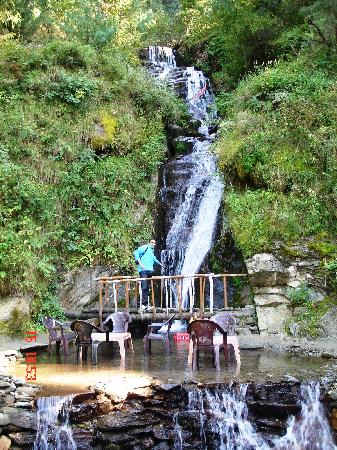 Rahala Waterfalls
Located on the way to Rohtang Pass, the picturesque landscapes and serene environment will surely make you take a halt. Water melting from the precipitous rocks and glaciers serve as the source of this waterfall. Deodar forests and birch trees dominate the area around the falls. The place is said to be the meditation spot of Sage Vyasa. Many people consider this place as sacred and visit the falls for its mythological significance. The best time to visit the falls is between September and November.
Rozy Waterfalls
The lush green valleys and the forested mountains encircle the waterfall form an enchanting backdrop. The white waters falling from a towering height creates an everlasting effect in the mind. The magical ambience and the serenity of nature soothe your mind and soul. Monsoon is the best time to visit the waterfall when the rainwater fills the river and the fall rises to the maximum.
Browse through the Manali tour packages enjoy a few days of solitude along with your family and friends at this picturesque hill station of north India.