If you are tired of searching for the most exciting place for your vacation, just try Larnaca! You'll ask "what is Larnaca, I haven't heard about it!" Just imagine 25 km of pristine beaches, warm sunny climate, stunning scenery and rich abundance of entertainment. This place seems to be perfectly created for an awesome holiday in the Mediterranean!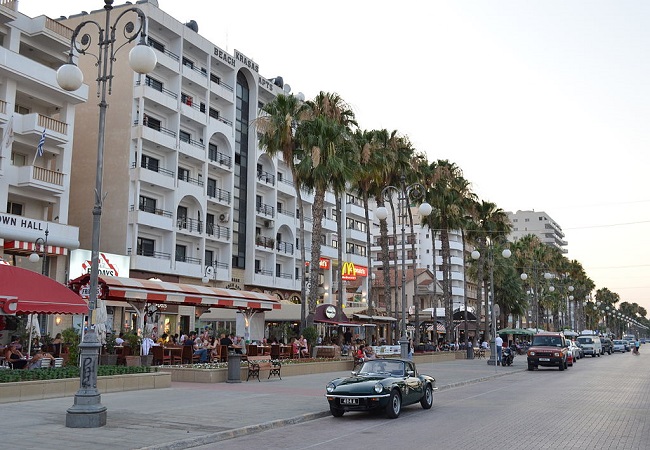 Enjoy swimming, water sports and soak up Greek and Turkish cultures! Larnaka has all the conditions for a great relaxation, so don't miss an exclusive chance to explore the most picturesque peace of Cyprus right now.
Take your credit card, a rental car and be ready to check several great reasons which will make your weekend unforgettable!
1. Stroll along the Most Beautiful Promenade of Cyprus!
Location: Athenon Ave., Larnaca, Cyprus
GPS Position (parking): 34.916257, 33.638714
Length of visit: 1-2 hours
Foinikoudes Alley is like a frozen frame from the movie about absolutely beautiful life! Incredible depth of the sky, dazzling sun, the sea with the best sandy beach on the left and promenade with restaurants, boutiques and clubs on the right. And there are a lot of palm trees around…just AMAZING! Don't miss this magical promenade!
2. Relax on the Lovely McKenzie Beach!
Location: 1101 Pacific Rim Hwy, Larnaka, Cyprus
GPS Position (parking): 34.891084, 33.636869
Length of visit: 2-3 hours
This magnificent sandy beach has awarded the Blue Flag! Cypriots prefer this place, ignoring the tourist Foinikoudes beach. The reason is the local taverns, where the food is much tastier and cheaper than in the center of Larnaca.
And, of course, on the McKenzie the atmosphere is quieter and calmer. This beach is fully packed with infrastructure: sun lounges and umbrellas, water bananas and water-skiing, catamarans and showers – you'll get all what you want! Admission is free!
3. Play with Waves and Wind at the "Vulkan" Wind-surf Station!
Location: Dhekelia Road, Pyla, Cyprus
GPS Position (parking): 34.979239, 33.700043
Length of visit: 3-4 hours
«Vulcan» is not just an ordinary station where you can learn to windsurf, but also it is a club of interests, which you should try for sure!
Also, apart from boarding you can do yoga and ride on a banana boat, or become a water skiing master! In short, you can find the entire set of entertainment in one place called "Vulkan".
Ticket options: Individual lessons: 30-50 €, the prices includes hire of the necessary equipment.
Working hours: daily 9am-6pm
4. Fry the Fish on a Brick at Unique Steakhouse!
Location: 25 Kosma Lysioti 6022, Larnaca, Cyprus
GPS Position (parking): 34.912672, 33.637535
Length of visit: 2-3 hours
This is the most unusual steakhouse you've ever seen! Feel yourself like a cook of your own dinner! Just select the ingredients and a waiter will put on the table a red-hot brick, on which you can fry meat or seafood to your own taste!
«It is not just a meal … it's an experience! » – says the motto of the restaurant. And as practice shows, you'll remember this event for a long time!
Prices: 10-15€ for fish or meat (for 1 person)
Working hours: daily 2pm-10pm
5. Try a Camel Ride and Feed the Camels at the Camel Park!
Location: Mazotos, Cyprus
GPS Position (parking): 34.800867, 33.507302
Length of visit: 2-3 hours
Enjoy a fascinating stroll through the camel park! You will get the thrill of communicating with camels, walking on the small museum and dinner at a nice restaurant, located right inside the park. Your children will be able not only to ride a camel, but also swim in the pool, while you sunbathe or eat in a restaurant. Camel Park Mazotos offers a great entertainment for your family!
Prices: 3€ for entry, camel ride 9 € (for 1 person)
Working hours: summer: 9am – 7pm, winter: 9am – 5pm
How to get a Car in Larnaca?
Larnaca provides huge opportunities of car rental service! Without any doubt, this is the most convenient and affordable way to move around Larnaca with comfort.
You won't have to waste your time in taxis or public transport!
Don't know where to pick up the car? Be sure to make your booking online in advance to get cheaper prices, and then pick up your vehicle directly at Larnaca Airport. The car will be prepared upon your arrival. Enjoy!
Wish you the most exciting weekend in Cyprus!
Author Bio: Lily Berns adores getting to know new cultures and meeting new people from all over the world. She also writes about renting cars, while traveling.