When we hear about Lanzarote of the Canary Islands, we immediately think of pristine beaches and its blue waters. But Lanzarote has so much more to offer apart from its beaches. You can discover the history of the old towns like Teguise. It has been the capital of the island and is now a treasure in itself when it comes to the beautiful colonial architecture of the place. If you want to see the more modern features of Lanzarote, Arrecife is the place to be at. There are also picturesque villages such as those of Haria which is very near the National Park of Timanfaya.  
Arrecife
If you want to see the metropolitan and modern parts of Lanzarote, it would be great if you get to visit Arrecife. It is the capital of the island and a bustling port city. A third of the population of Lanzarote lives in Arrecife, with the number reaching up to 45,000. In Arrecife, you can go shopping, take a swim at the beach, visit the parks, walk along the promenade, enjoy the nightlife, and other activities that the city is ready to provide you with.
In this city, there are also castles that are rich in history. One is the Castillo de San Jose where you can find the International and Contemporary Art Museum. If you want to learn more about the city's history, you can visit the second castle, the Castillo de San Gabriel.
The Resorts in Arrecife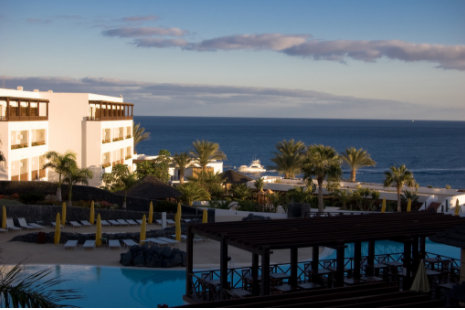 While in Arrecife, there are three resorts that you can choose from – the Hesperia, Costa Calero, and Puerto Calero where you can find an array of great hotels.
Puerto del Carmen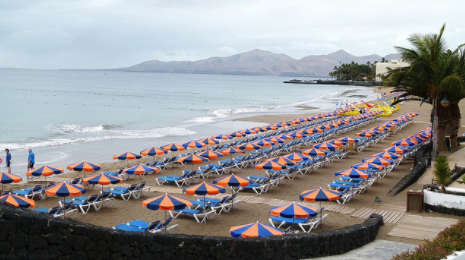 This place is largest and oldest resort in Lanzarote. It is one of the first locations where travelers went to. It was built originally surrounding the old harbor of the town. Now, it has been extended to about six kilometers of golden beaches. You can choose among the studio apartments that overlook the beach road, or if you want something more luxurious, there are exclusive villas in Los Mojones which is on top of a cliff which overlooks the harbor and the sea.
Costa Teguise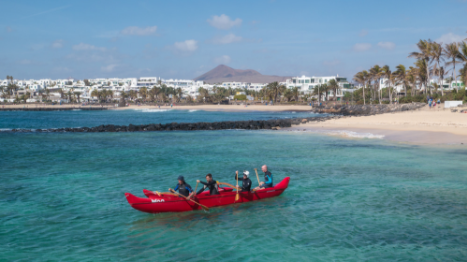 Costa Teguise is among the island's most established resorts. It was developed in the '70s as a tourist resort by Cesar Manrique. There are a lot of beaches to choose from while you're in Costa Teguise. The location of the resort is very ideal for exploring the many attractions of Lanzarote.
Playa Blanca
During the past few years, there have been lots of development in the Playa Blanca resort. But thankfully, there are no high-rise developments because of the strict planning laws of the place. Playa Blanca continually grows, but it still has its very relaxed atmosphere and is a favorite among many visitors.
Puerto Calero
Puerto Calero is a bit smaller than Puerto del Carmen, Playa Blanca, or Costa Teguise but it is more upmarket. While there are no beaches, you can go swimming from the rocks. There are also two hotels and a variety of holiday villas to choose from. It is a place that you should visit especially if you love boats because of the excellent marina there.
Towns and Villages of Lanzarote
Let's take a look at some of the villages and towns that you can explore while you're in Lanzarote.
Haria
In a place called the valley of 1,000 palms, you will find Haria. This is where you will experience the essence of Lanzarote. The village atmosphere and the sceneries will blow you away. There is an artisan market every Saturday, in a quaint art gallery along the main square. In the local cemetery, you can visit the grave of Cesar Manrique as well. He lived the last of his years in Haria. It is a good place to visit for the lovers of art.  
Teguise
Teguise used to be the island's capital for many centuries until the capital was transferred to Arrecife. Try visiting Teguise for its Sunday Market. If you love old architecture, this is also a great place to witness such wondrous works. The atmosphere of the place is tranquil and relaxing.
If you are driving around the island, it is most likely that you'll pass through Teguise. It is just on the way to the northern attractions and is also near the beach located at Famara.
Tias
Tias is one of the most important as well as among the oldest towns in Lanzarote. However, it is not often featured as a tourist attraction. But it does have a lot to boast as well. In Tias, you get to overlook the Puerto Del Carmen resort. It has been a favorite destination for many expats to stay in. It has also been home to a winner of the Nobel prize.
Yaiza
Yaiza has been voted as Spain's prettiest village. It is great for those who want a peaceful place to visit and explore. It sits very near the Timanfaya volcanoes and is lucky to still be around. Yaiza is definitely a place to visit and experience at least once.
Coastal Villages
If you want to move away from the more developed and crowded resorts, you ought to visit the coastal villages of Lanzarote. Here are some of them.
Caleta de Famara
This is a little fishing village that has a wonderful beach. Both international and local surfers enjoy the waters of Caleta de Famara. It also has great views to offer as well as a selection of simple and quaint restaurants. It's a good place just to relax.
Arrieta
The fishing village of Arrieta is unspoiled and is considered to be a gem. One of the best beaches found in Lanzarote is in Playa de Garita. Do check it out and see for yourself and be amazed.
Playa Quemada
This village is found in the southern part of Puerto Calero. It's a really small village with houses spilling just onto the volcanic beaches. Once you see it, you can imagine how Lanzarote used to look like before tourism came into play.  
Takeaway
This single island has so much to offer. Imagine getting the chance to stay at each of the Canary Islands for extended periods of time. You'll surely want to stay forever. To know more about the many things you can do on the islands, visit www.canaryislandsinfo.co.uk  where you can find extensive information about every city and town in the Canary Islands