Bangalore attracts students, professionals and tourists from all over the world. It has the twin names of 'Silicone Valley of India' and 'Garden City'. The I.T. industry thrives in the background of flowers and greenery.
Bangalore has an active nightlife and pub culture. Besides these, many cultural, sporting and entertainment activities take place in the city.
Here are given some of the events to be held in Bangalore on the third weekend of March, 2015:
Play For Peace Workshop: From 9.00 a.m., Saturday, March 21 to 6 pm, March 22, Sunday. Venue is Army Public School, K. Kamaraj Road. This workshop aims to help participants experience themselves consistently without fear or reticence. Also, it aims to examine the issues of social justice, inclusion, and equity. It is organized by Educator's Collective. Costs Rs 2100 per person.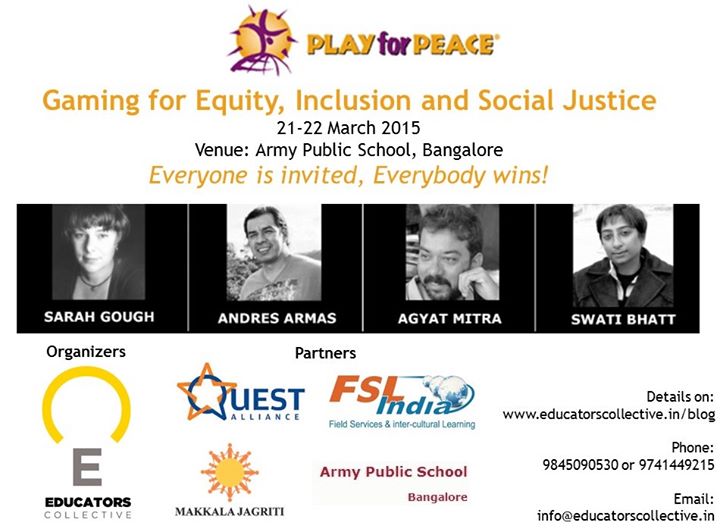 FUTURE UNDERGROUND Presents JOHNNY DEEP: Future Underground brings you the best of Underground music to be kick started by famous British- Indian DJ, Johnny Deep. He can spin the best of Tech House and Deep tunes. He is an ex- DJ and RJ of Ministry of Sound with experience of 2 decades and over 3000 radio shows. Venue is Counter Culture, Whitefield Road.
AGUMBE 3-Day Camp in Rainforest: From 10 p.m, Saturday, March 21st to 5.00 pm, March 24th, Tuesday. A camp to explore the Agumbe Rainforest of the Western Ghats, which is a biodiversity hot spot. This rainforest is the home to some excellent flora and fauna, especially the King Cobra. This camp is being organized by Bangalore based Dark Green Adventures. It costs Rs 8500 per head. Includes fare for Udupi- Agumbe- Udupi, guides, food, and accommodation. Excludes train fare and other personal expenses.
Pain Related Fear: On Tuesday, March 24. Venue is RECOUP- Neuromuscular Skeletal Rehabilitation Centre, Anjanapuram layout: Advanced workshop on Pain related fear.
Head Start Co-Founder Search, Bangalore 2014: Find your start-up soul mate. You will be sent an invite when potentials are found by matching your registration with the potential matches. Don't be disappointed when you are not invited to the next event date. Your details will be preserved in the database for fresh applicants. From 10 am to 3.00 pm, March 21st.
Ugadi Special For Volunteers: Ugadi celebrations at Kidwai Memorial Institute of Oncology, Dr. M.H. Marigowda road. Celebrations will target Government remand home for children and cancer patients.
Advanced Quilling Jewellery Workshop: At 1.00 pm to 6.00 pm, March 21st. Venue is Art' zire. Learn quelling jewellery making. All materials will be provided and it is a make and take class, but tools have to be returned. Only six seats and costs Rs 3200 per seat.
Feed The Hungry With Teztadka: Help in providing meals for the poor by either sponsoring a meal (Rs. 18 per head) or volunteering to pack meals (Saturday, 21st March, 3.00 p.m., at Teztadka, Sarjapur Road).
These are some of the interesting events in Bangalore, slated for mid-March. All events in Bangalore promise to be enjoyable, exciting and satisfying.
Author's Bio: She is a resident of Bangalore since last two decades. She loves attending various cultural and other events in the city. She is also a freelance and contributes articles on all events in Bangalore to the website eventshigh.