The faster your organization grows, the harder it gets to deal with sales and marketing. Luckily, the market is full of sales management software solutions that can help you. They can be applied as versatile platforms for handling marketing, sales and customer service and provide hundreds of useful tools and instruments. Here are five solutions that users love for their simplicity and comprehensibility.
bpm'online
This software can be used by small, middle and large size organizations and provides the full spectrum of instruments for sales management. There are at least four reasons to try bpm'online software:
Ready out-of-the-box processes allow for automating sales processes and saving time and efforts. Now your workers don't have to be busy with repetitive tasks – they will be executed by the program.
Users have a full view of customer journey from leads to purchases and post-sale service. Thanks to that, you can make personalized offers and adjust to changing customers' demands quickly.
This sales software has tools for generating invoices and orders, so you don't have to use third-party resources to conduct and track sales.
Engaging intuitive interface is pretty easy to use, and users don't have to be tech-savvy to understand what is what. A few minutes will be enough to become familiar with navigation. The platform can be used as on-premise or cloud solution, and ensures great user experience no matter what you access it from: a phone, tablet or PC.
Other outstanding features include knowledge management, tools for collaboration and system design. There are three different editions coming for different price: team, commerce and enterprise. With per user per month payment system, you can easily calculate the cost of service.
dapulse
Cheap, easily integrated and properly supported, dapulse program is perfect for organizations that need to deal with numerous leads every day and organize collaboration properly. With this software for sales management, you can see what your team is working on and never miss a task.
With dapulse you can assign tasks, to-dos and missions to separate teams or workers. The status of tasks will be displayed, and alarms and notifications will help you to distribute workflow optimally. The rows of tasks called "pulses" may be executed collectively thanks to comments and thumb ups added by teammates. If you percept visual information better, you can view all real-time data and reports in the form of diagrams.
It should be mentioned that this sales management software is praised by organization thanks to the opportunity to invite clients to perform tasks together and reduce the number of calls, personal meetings or emails.
Leadfeeder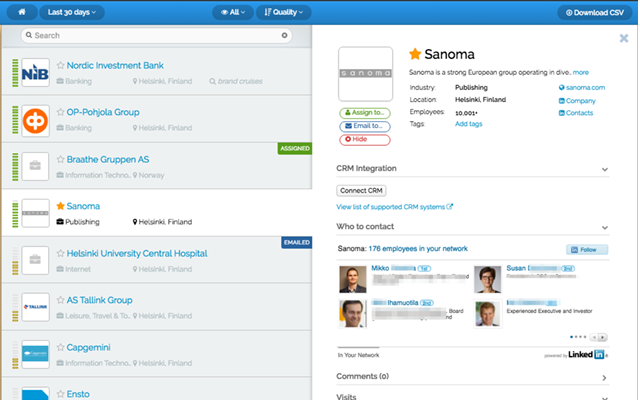 If your sales process takes place on your website and you need a good tracking system, consider using Leadfeeder software. This is a superb platform that can be integrated with CRM tools and emails. It has the following benefits:
Setup is immediate and is totally free. As soon as you deploy this solution, Google Analytics will start gathering information about the companies that have visited your website in the last month. No need to install extra scripts!
With online sales leads you can contact potential customers within the same day.
This sales management software is powered with automatic reporting, so you will always have sales leads' visit data at hand.
With lead filtering and in-built lead scoring you will always know who to work with.
Leadfeeder can be called the best sales management software for large-size companies that need to generate and track hundreds, or even thousands of leads daily.
Close.io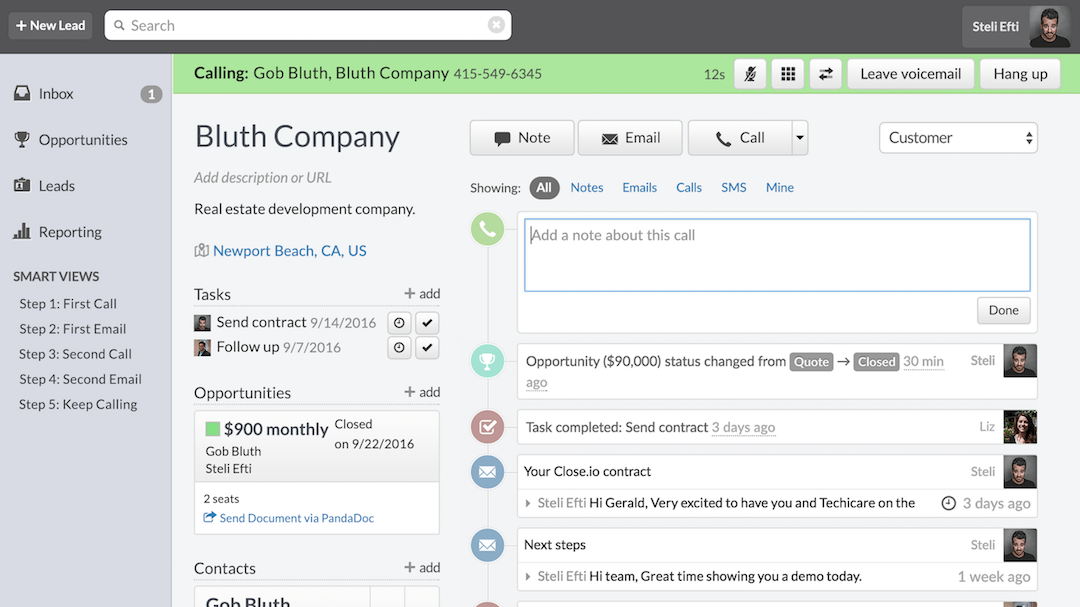 Startups and SaaS companies should opt for Close.io, as this is an affordable and understandable platform that allows having all customer communications in one place. This simple and yet functional online sales software provides everything your team needs for successful implementation of tasks: calls, reminders, emails, integration with CRM systems, tracking of sales activities. It helps to close deals faster and more efficiently than ever before.
What users adore in Close.io program is total transparency of activities: your teammates will see what tasks are being executed and by whom. This way, you will avoid repeating efforts, and employees will reach maximum efficiency. No matter what they need, they can get necessary information in a few clicks: the search is intuitive. Such features as automatically logged calls, voicemail, and call transferring you won't miss an opportunity. Built-in calls and SMS make this program a great alternative to third-party programs and applications.
Voiptime Cloud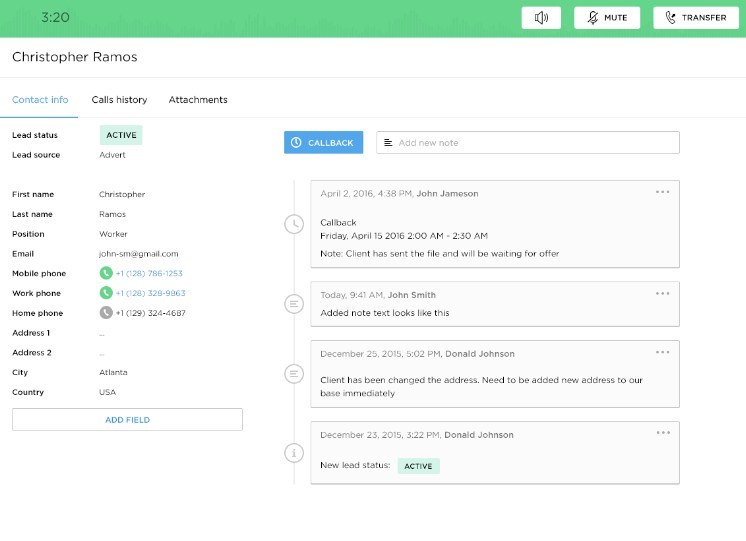 Companies that need online dialer will definitely call it the best software for sales management, because Voiptime Cloud has all options for call leads.
Online dialer can be used right away after registering SIP number.
Calls are recorded and saved with various statuses. It allows checking agents' activity and customers' reaction.
Client Card contains all necessary information: contacts, deals, interaction history (calls, meetings, emails).
Possibility to nurture leads with notifications and callbacks.
Gathering of leads from your website to the system. You can assign Group and Source statuses to filter leads.
Voiptime Cloud software is versatile, and can be used by different organizations including educational, insurance, tourism, manufacturing, etc. Besides, it is pretty cheap.
Deploy one of the above mentioned management systems in your work, and lead generation won't be a problem anymore.  With so many sales management tools at your disposal, you can take any risks and stay a winner.