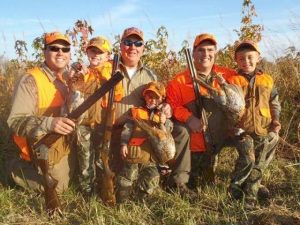 Hunting has become a sport that the whole family can enjoy and appreciate together. New luxury hunting resorts have made the sport easy for anyone to adapt to and can tailor an experience that anyone can enjoy. Whether you prefer the most rustic, close to nature experience or a replica of your favorite five-star hotel, there is a hunting lodge out there to fit your needs.
But like many other things, you do not just want a good hunting experience; you want the best experience available. Big game hunting, year-round hunting and everything in between, here is a list of the best hunting lodges in the world for your ultimate hunting experience. Head to MaxArmory.com to stock up on supplies, because these lodges are sure to make even the biggest anti-hunting advocate reconsider their favorite pastimes.
1.     Three Forks Ranch, Savery, Wyoming
With all the luxuries of a high-class hotel, including spa, gourmet dinning and classic European architecture, this lodge is sure to satisfy your vacation needs.
When you get bored with hunting the over 50,000 acres packed with deer, antelope and elk, you can enjoy fly-fishing, horseback riding, four-wheeling, and photography.
2.     Northern Outdoors, The Forks, Maine
This resort brings you back to primal America with all the best white-tail deer that Maine has to offer. The lodge provides everything you need, along with a variety of hunting packages to fit your desires.
Trek out into the wilderness with three and five day hunting trips with an experienced guide to lead you to the best game. When you want to head back to the lodge, enjoy a relaxing dip in the swimming pool or an ice-cold locally brewed beer.
3.     Tarr Farm, Dulverton, Exmoor, England
Buy copious amounts of bullets to practice and perfect your shooting, or take in the view with hiking, kayaking, biking, rock climbing, abseiling, horseback riding, and fishing.
Though this lodge comes with a large price tag, you will definitely find its worth in the luxury rooms with Egyptian cotton sheets, DVD players and organic bath products, and the exceptional lodge restaurant.
4.     LaFonda Ranch, Brackettville, Texas
The 8,000 acres of rugged Texan countryside are ideal for hunting whitetail, quail or even Rio Grande turkey. The five-star lodge makes for the perfect weekend getaway with an in-house chef and a rifle range at your disposal.
5.     Glenroy Hunting Lodge, Queenstown, New Zealand
Nesseled in the Remarkables Mountains, you will find the resort packed with Himalayan tahr, red stags, fallow deer, and American elk for the ultimate manly adventure. With everything a man could ever need on a hunting trip, including a large barbecue area, a house bar and a spa pool, Glenroy Hunting Lodge will make you feel like you're the king of the land.
6.     Deer Creek Lodge, Sebree, Kentucky
This resort has been providing customers with trophy game for over 30 years. Pay just one fee for an unlimited hunting experience. Test your many other skills with catch-and-release bass fishing, horseback riding and5-stand sporting clays to practice your shooting.
Image: http://www.resortsandlodges.com/top-10/2009-03-31/top-10-hunting-lodges/