Story:
After deleting his memory, Thomas (Dylan O'brien) is abstrusely saved to the Glade – a green field, encompassed by high dividers of an enormous maze, where a couple of different young men have been caught as well. Can the gathering escape the destructive maze?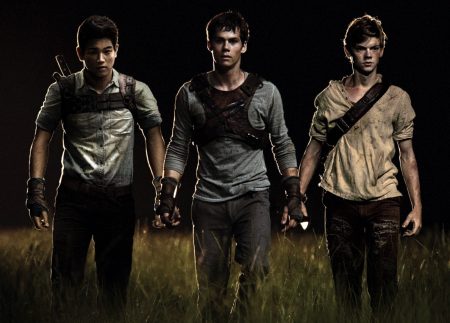 Review:
Horrified by the circumstances and tormented by flashes of an unsettling dream, Thomas looks for answers from individual detainees, who are similarly dumbfounded. All they know is the way every morning, the way to the maze opens, giving the best runners of the gathering a chance to guide the     continually moving maze to discover a way out.
In any case, they must return before the door closes, as using the night inside would mean fighting unsafe animals called the Grievers. Notwithstanding various endeavors, nobody has ever gotten away from the maze as such. Could Thomas be the key?
In light of James Dashner's famous adolescent grown-up books, this tragic, post-prophetically catastrophic thriller can make you feel claustrophobic, each time the runners press themselves through the limited pathways of the maze. A couple of these quick paced arrangements are sure to flabbergast you with nervousness. Strained, dim and environmental, consistent trepidation of the obscure holds you, keeping you on the edge of your seat all through.
While its 'fight for survival in a nature' topic helps you to remember 'The Hunger Games', this has its own particular wanders aimlessly. The youngster on-screen characters perform with most extreme conviction and are amazingly downplayed. Likewise, what separates this film is the way the story concentrates on human feelings to the extent that it does on enhancements. You feel for the characters and their trauma.
At last, the plot incites you to think if 'being sheltered to endure' is superior to 'taking a chance with your life to look past the self-evident'. It additionally persuades you to move out of your safe place and face your dread. The peak may appear disappointing for some however the assemble up is a certain shot victor. Merits a continuation…