"Omnes viae Romam ducunt" is an ancient Latin dictum which literally means "all roads lead to Rome". Did the ancient Romans wanted to express a latent wisdom? Yes. What they probably meant to say is that there are many paths which can lead you directly to your goal, but you should be able to recognize the best way. The very fact that Romans built the trails and roads which still exist today serve as an inspiration to craftsmen from all over the world. Here's what you need to know in order to construct the perfect walkway.
Creating the Plan
You don't necessarily need to follow your old walkway through your yard. Before you get rid of the old one, which you certainly could do, try to analyze your garden and think if there could be choices which would be even more logical, considering position of everything else in your surroundings. A good plan will help you in your work.
Once you've planned everything, take a few moments and try drawing it on a piece of paper. Think about different possibilities and ways to achieve what you've imagined. A piece of advice: if you've planned straight lines with 90 degrees angles, just stretch any kind of rope or a fishing nylon and follow the line. This will give you straight lines and good angles. Here are the five most popular paving patterns.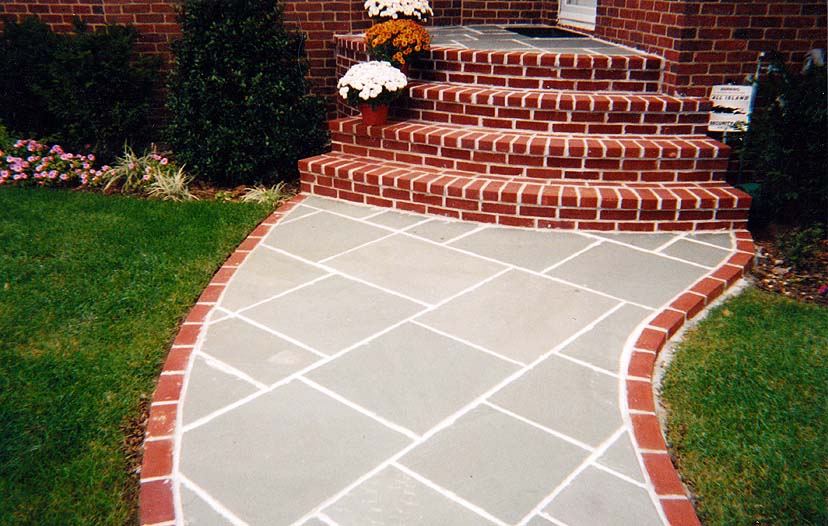 Laying the Base
For your brick bed you will need a flat ground, gravel and some sand. The most difficult job is levelling the surface which can take lot of effort and hard work. You need to dig 8 inches deep so that later you could put 4 inches of gravel and 2 inches of sand. The remaining 2 inches are for the bricks. Before laying bricks, you must tamp it well to avoid later decaying. The type of sand which you'll be using is very important.
Don't use beach sand because its grains are round and your bricks could shift eventually. Concrete sand is the best choice, because it will lock everything firmly into place. It causes more friction and it will keep your pavers steady. You are going to need a smooth area to set your paving properly; just use a simple plank to straighten the sand. This video elaborates on laying the foundation for a walkway.
Choosing the Size, Shape and Design
Simple but effective, concrete can have stamped, scored or brushed finish. It lasts very long and doesn't cost much to install. Rubber tiles are also popular; they are quite modern and can look like concrete tiles. Brick pavers are very well known since they offer different patterns for setting. They are rather thin, but can endure heavy foot traffic. They are popular because they have many sizes, shapes, colours and designs, and can have the look of new or old paver. Or you could simply choose from many durable and stylish Austral pavers online and save yourself the trouble of going shopping for pavers.
Romans were masterfully using paving stones, creating a craftsmanship that defies the ravages of time for over two millennia. Today, we have modern materials but the principle remains the same. This little history reminder teaches us to choose wisely our sidewalk builder and to use durable materials in order to use the path we ourselves have made, for a long period of time and enjoy them just as long.