Is your style casual or sophisticated? Choosing the right style for your cocktail bar as for your coffee shop is very important if you want to communicate your values and to distinguish yourself from your competitors. From furnishings to the menu, everything contributes to telling who you are, what you sell and who is your ideal customer. The choice of bar uniforms is also important to achieve this goal.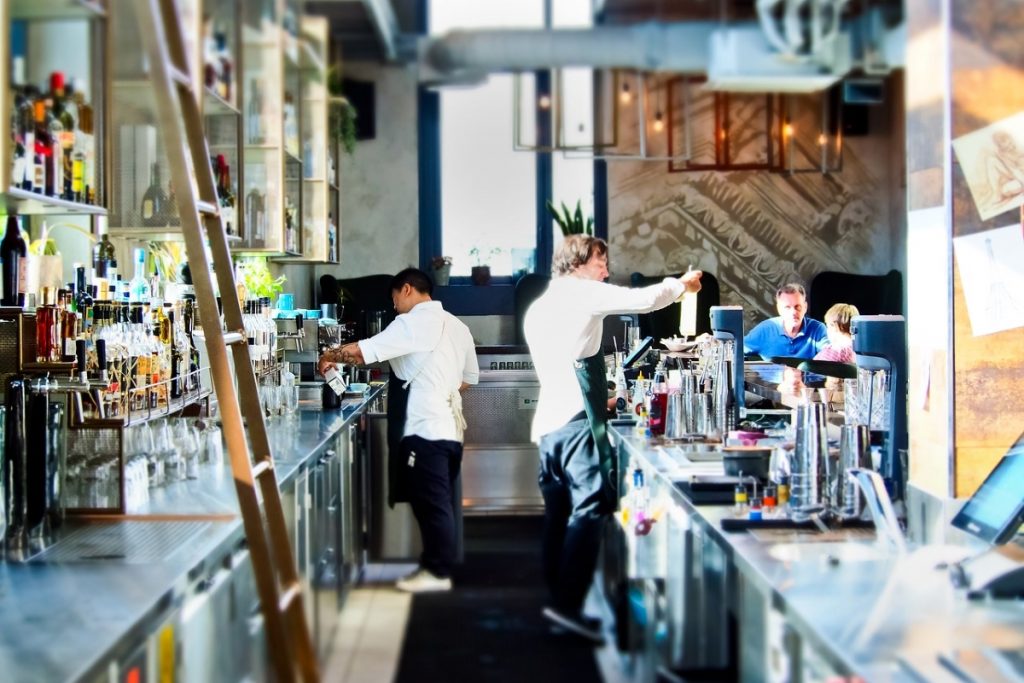 Uniforms for bar staff must be in line with the style of the whole store, its furnishings, the type of service offered and also the quality of the products on sale. So, here we are with some tips for choosing the best bar uniforms for your store. We will consider models, colors and materials of the fabrics.
Classy bar uniforms for lounges and starred hotels bars
If you manage a lounge bar, a wine bar, a cocktail bar or a starred hotel with a bar service inside, the uniforms for your staff must have an elegant and refined style.
The choice of the materials is very important to ensure a classy impression on your guests. So, you can choose fine materials but very expensive, too. They could be damaged due to accidents or frequent washings so we would like to suggest you a modern and innovative material for aprons and vests like Shiny-Satin Gabardine. It is a polyester fabric with a special shiny-shimmering effect and wrinkle-free. This is a very important factor to consider because thanks to this feature your staff will always look smart.
You can choose neutral colors like black and gray in contrast with the white color of the shirt if you prefer monochrome uniforms. Otherwise, you can also choose fabrics with a geometric relief that give the bar uniforms a modern and innovative style.
Don't forget to complete the outfit of your staff with custom accessories made in the same material and color, like hats, bibs, and ties. Everything will contribute to conveying a sensation of quality and elegance to your guests.
Casual bar uniforms for coffee shops
If instead, you manage a coffee shop or a modern bar where your typical customers are teenagers and young adults, then you will have to choose informal clothes for your staff. Remember that informal does not mean neglected and don't think it is not necessary to wear it in an informal contest like this. The casual uniform is important to let your customers know that in your store they can feel like at home and that if they need something, they will have to contact the person wearing the uniform.
One of the trendiest bar uniforms in recent times is denim for funky or industrial style bars and coffee shops. These shops are furnished with minimal style pieces, they are often set into old factories or warehouses with exposed bricks walls and large aged wooden beams instead of the tables. It is not a shabby style but it is a new trend in the Hospitality market.
Or, let's think about the several newborn vegan and bio bars and coffee shops. The color and the material of the uniforms must be selected in accordance with the values ​​of the store and of its managers too. So, the uniforms will have to be made bio fabrics like hemp. There are several very resistant polyester fibers with a thick and almost rustic weave like the original hemp. These materials, unlike the classic polyester, are not shiny and they are very durable.
So, the choice of the right uniforms is important for the customer to be familiar with the place and the people that manage it too.