Michelle Obama says each expressions association in the nation ought to grasp the mission of the Grammy Museum in Los Angeles, which concentrates on training.
Six million American youngsters go to schools with no craftsmanship or music classes, she said Wednesday at the historical center's inaugural Jane Ortner Education Award Luncheon.
"Expressions are an approach to channel … torment and disappointment into something genuine and gainful and excellent, and each individual needs that, especially our children," she said. "Furthermore when they don't have that outlet, that is such an enormous misfortune for our children as well as for our country."
The Grammy Museum has worked with the first woman since 2009 to deliver shows and music training projects for youngsters, bringing 1,000 understudies to Washington, D.c. to see live exhibitions.
"Those are some of my most loved occasions at the White House," Obama said.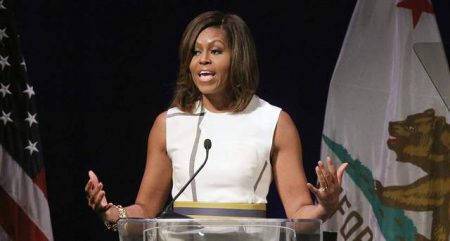 The Grammy Museum has concentrated on instruction since it opened in 2008, said official chief Bob Santelli. It means to rouse learning, imagination and basic thoroughly considering music. The exhibition hall has more than 35,000 understudies a year and gives free curricula to different subjects that consolidate music in creative ways.
Southern California secondary teacher Sunshine Cavalluzzi created one such educational program: weaving music into matters of trade and profit lessons. She was joined by a few of her understudies at the private luncheon at L.a. Live's Club Nokia, where she acknowledged the Jane Ortner Education Award.
Vocalist musician Janelle Monae, who got the Jane Ortner Artist Award, said music spared her when she was experiencing childhood in a harsh neighborhood.
"Music helped me truly manage my feelings, when I couldn't express how disappointed I was," she said. "It provided for me the chance to get everything out."
Her most recent collection, 2013's "The Electric Lady," rails against sexism, exhibiting ladies as subjects instead of items.
The 28-year-old performer is dynamic with the Grammy Museum's instructive effort, engrossing understudies at the White House and at the gallery.
"I trust we have more tutors," Monae said. "A larger number of guides than superstars."
In the wake of tolerating her mouthpiece formed trophy, she brought out her band and performed a high-vitality four-melody set that incorporated a spread of James Brown's "I Feel Good."
The main woman presented the petite, pompadoured Monae, calling her a "fireplug" and a companion, and uncovering that the artist moved on a table amid her White House execution.
"I adore Janelle's message," Obama said. "I adore that she is one of the adolescent craftsmen here that is making music that implies something."