While Dubai is a fascinating place to visit with its modern conveniences and great opportunities for shopping, it can be a very hot place to be in the summer. To get away from the city and cool off, you can venture out of the area toward the shores of the Strait of Hormuz, which is the entrance to the Persian Gulf. There are several activities you can enjoy when you visit Musandam during the hot summer.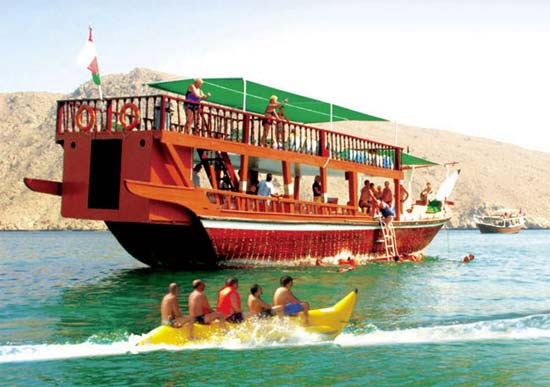 Take a Dive
A trip from Dubai to the Musandam Peninsula doesn't take long and you will be able to spend some time under the cool water. If you choose to drive, you can get to the shore in about two and a half hours and book time for a diving tour. You don't even need to bring equipment, because you can hire it when you book your excursion. While it is suggested that only expert divers participate in dives in Musandam, many companies offer dives for people of all abilities.
See Local Dolphins
Many people take the journey to Musandam to go dolphin watching, which is offered by several tour companies in the area. Most of the trips out on the water to visit the animals are in wooden Dhows, which are the boats made by Omanis. The boats will sit anywhere from 10 to 30 people depending on their size.
Try Beach Camping
Instead of booking hotel reservations, you can book reservations for Khasab camping by Musandam on the beach instead. You will find many companies offering packages to take you to places like Khor Sham by dhow to spend the night on the beach. Everything you need will be supplied, including food, beverages, snacks, and a tent with many modern amenities. The only thing you need to bring is light, modest clothing and swimwear.
Travel into the Mountains
If staying on land is more your style, you can book trips into the mountains surrounding Musandam. You will be driven by 4×4 on a mountain safari to visit ancient sites and see the acacia trees in Khalidiya. Along the way, you will be provided with refreshments and snacks so you can stay hydrated during the trip.
Relaxing Sea Tours
If you want to spend a half or full day just relaxing on the open water, you can book a cruise in Khasab. You will board a dhow and travel through the nearby fjords on beautiful blue waters for the day. Along the way, you may stop for refreshments and you can go snorkelling or swimming with your cruise companions.
If you want to escape the city and visit a more rural area, then a trip to Musandam may be exactly what you need. There are many things you can do with your spouse or friends, whether you just want to take it easy and cool off in the water or do something more strenuous like diving. Make sure to book your reservations in advance for this popular coastal destination.