We could make our lives easier with the right kind of flooring. The mood for the entire kitchen could also improved with proper flooring. Things we need to consider include style, use and durability. We could start by taking a look at our available options:
1. Hardwood Flooring
Hardwood flooring is known for its inviting and warm tone. It can help us to create a more traditional feeling in the kitchen. Hardwood floors are preferred for their prestige and beauty. It is possible to clean them rather easily. Oak is a good type of hardwood floors due to its durability and neutrality in colors. Other popular options are walnut, cherry and ash. We could choose solid flooring, which is cut directly from pieces of wood. Solid hardwood floors can be nailed to the sub-flooring. Engineered hardwood flooring is actually laminated thin wood sheets with crisscrossed patterns for additional strength. To add strength, the flooring is topped with veneer. Overall, engineered flooring could hold up better compared to solid flooring in terms of changes in humidity and moisture. Engineered floors are available in planks and strips.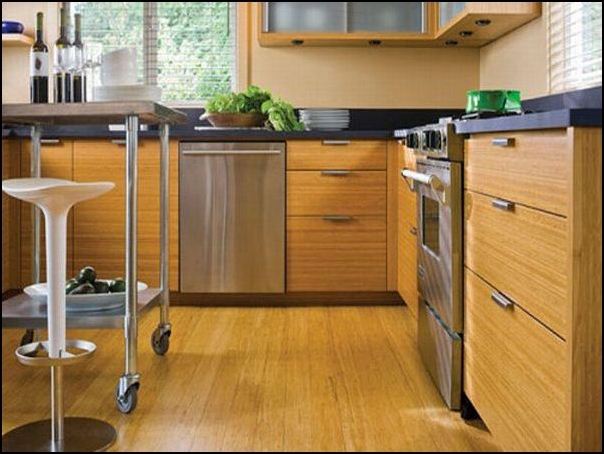 2. Vinyl Flooring
Vinyl flooring is an aesthetic and affordable option for kitchen flooring. It offers impressive resistance to moisture and durability when used in kithin. Another reason to choose vinyl flooring is because it can be used to imitate hardwood, marble and stone flooring. Vinyl is essentially plastic or more precisely, polyvinyl chloride. There are two types of vinyl flooring. In inlay vinyl flooring, patterns and colors are embedded to the layers, while rotovinyl has just a layer of vinyl printed with patterns and colors. To boost productivity, vinyl flooring usually has protective coating overlay. Inlay vinyl flooring offers an impressive resistance because patterns and colors go all the way through the material. Rotovinyl is available in both tile and sheet forms. The actual resistance of the material typically depends on the type of protective coating used. Overall, vinyl floors are quite easy to maintain and they need only quick mops.
3. Marble Flooring
Marble flooring comes with unbeatable durability and natural beauty. Marble forms beneath the Earth's crust and considered as metamorphic rock. As it is prone and porous, marble flooring is characteristically unsuitable for kitchen flooring, because it stains more easily. Since no two slabs are identical, marble flooring offers unique styles in each slab. There are a variety of colors, such as blue, grey, brown, deep green and pure white. It's ranked from grade A through grade D. If our budget allows, we need to choose the grade A with the least imperfections and highest resistance to scratching and staining.
4. Ceramic
Ceramic is probably the most common type of flooring and it is one of the longest-lasting materials known for home uses. Ceramic can withstand high-traffic usages, such as in the kitchen and it can resist exposure to dirt and water. There are multiple decisions we should consider when choosing ceramic tile, such as finish, color, shape and size.