Autumn is right here: three months to say goodbye to the hectic summer andreturn to the atmosphere of calm before holidays.But…Is it all calm during October and November? What can you do in Barcelona on late September? The Catalan capital never sleeps and the arrival of autumn is not an exception. Anotatethe following plans in your agenda and find a Barcelona apartment for rent to enjoy the Mediterranean capital in all its glory!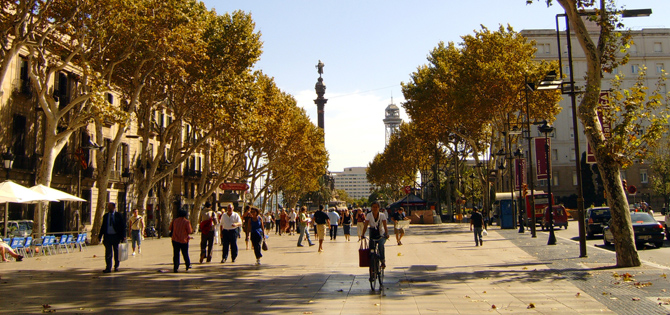 La Mercé: the Celebrationin Capital Letters
What a better way to welcome the autumn than withthe most celebrated festival of Barcelona: La Mercé? Four days of celebrations where streets are filled with culture, color, light and fire to honor the patron saint of the city.
Free concerts by international artists such as Manu Chao, museums with free admission, circus and street performances, exhibitions, sardanas (regional folk dancing), castellers (human towers consisting of eight floors), traditional food and a long list of activities to keep going 24 hours a day.
Chemical Brothers in Concert
On Thursday October 27th you have appointment mandatory event: the concert of the most successful duo of electronic music in recent decades, with the company of very special guests,such as 2 Many Djs and ErolAlkan. What is special about this concert in Barcelona? The unique setting of the PobleEspanyol, a special place of Barcelona at the foot of the mountain of Montjuïc that faithfully reproduces traditionalarchitecture and iconic corners of the Spanish geography.
Good music, excellent backdrop and one of the most pleasant areas of Barcelona make this plan one of the musts of autumn in Barcelona.
The Cure & Red Hot Chili Peppers
If the electronic musicis not enough motivation for you, two legendary bands in active since the 80s and with numerous hits, The Cure and Red Hot Chili Peppers,postulate as an alternative of classic rock guitars and a barely abusing synthesizer.
On Saturday November 26th, the band led by the charismatic Robert Smith will be in the magnificent Palau Sant Jordi, same scenario where two months earlier, on October 1st, will play the no less charismatic Anthony Kiedis with his band of authentic Californian rock.
Pure "Liga"
In autumn the league of Spanish football has already begun (La Liga) and it is the momentto decide thewinter champions: the best teams fight for the championship title, and the remaining five will fight for a placein a European competition (Champions or UEFA). Therefore it is a great time to  visittheFC Barcelona Museum (the exhibition area most visited in Spain with almost three million visitors per year) withan entry ticketto a football match of one of the most exciting sports competitions around the world.
If this sports complex is not enough, we can also visit the nearby town of Cornella, where we find the headquarters of the other city team: RCD Espanyol, whose beautiful stadium is part of a leisure complex where you can spend the whole afternoon.