Macau is a city where Visitors and tourists can still feel and have a touch of the rich Chinese culture blended with the Portuguese heritage in the architecture, the food, the streets and other things. It is also the only city in China where gambling is legalized and allowed.
The gambling has modernized made millions of tourists from various places all over the world flock to the city spending large sums of cash in many casinos such as the Casino Lisboa. Macau has cultural and historical venues, lovely entertainment, sassy hotels and restaurants and much more.Travel invites you to explore this beautiful city. Mentioned below are the top best things to do as you explore this lovely town.
Visit the Casino of Lisboa
Lisboa is the gambling heart of Macau. It is the oldest casino on this island, and its location is in downtown. In 2007, this casino underwent a renovation to grandiose and ostentatious look power-packed with glam. You should get to visit this distinct casino of the island. To get to this casino, go to the Grand Lisboa free shuttle bus which is outside the ferry terminal.
The bus directly takes you to the hotel. This casino also offers an extensive range of restaurants which serve the highest quality cuisine. This casino is worth a visit. Ensure you go inside the casino to have a look at the exhibit of Chinese figures and the striking chandeliers. It also has an extensive display of 218 karat diamond. The gold dragon boat and the jade on display in the lobby are worth the trip.
Visit the St. Paul's Cathedral Ruins
This landmark is just a façade. The 17th-century ruins are known to honor St. Paul the Apostle. It has Oriental themes and wonderful carvings on it. The good thing is that it is open and free to the public. Behind it is a small museum with a few artifacts and a huge mystery rock. There is also a reliquary of Japanese monks and martyrs.
Take a visit to Senado Square
Senado is among the most famous squares in the city of Macau. This square was facelifted in the 1990s from then on it became a very well-visited spot. It has a design with a patterned wave of mosaic with wonderfully colored stones. This square is always busy with many cultural and social activities.
There are also several traditional Chinese restaurants, boutiques, famous bars and shopping centers around it. During Christmas and Chinese Spring Festival, visitors and tourists can enjoy fantastic fireworks shows.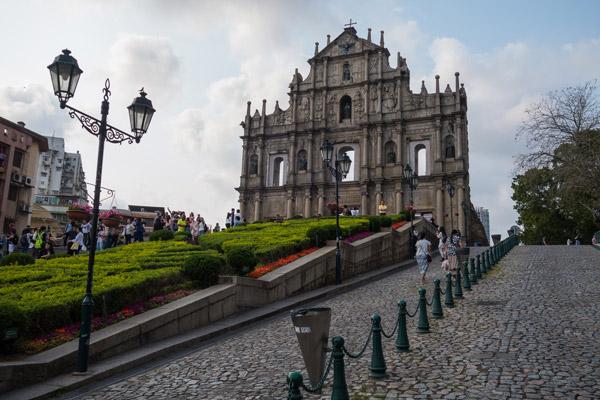 Visit the Village of Taipa
Taipa is believed to be one of the greatest attraction in Macau. It is one of only two (2) traditional villages which still exist in this city. It is full of attractive and fascinating colonial houses which have paintings in blue, green and yellow color. Visitors can also get to sit or stroll down the tree-lined esplanade, Avenida da Praia.
This street has wrought iron benches which are perfect for refreshing ice cream and lemonade. You also get to eat and drink in one of the many cafes which are Portuguese-styled.
Visit the Fisherman's Wharf
It is a complex comprised of over 150 restaurants and stores. The buildings have marvelous styles and designs of different world seaports like Cape Town, Venice and Amsterdam, a slot hall, a casino, six rides, and a 72-room hotel. This attraction is the first-ever creative, themed and cultural landmark Macau's tourism industry
Visit the incredible Kun Iam Statue
Kun Iam is a resplendent bronze figure which rises to a height of 20 meters. This beautiful statue combines Chinese styles and western styles and is one of the most recognized attraction in of Macau's. This statue is a dedication to the goddess of mercy, Kun Iam, in the Chinese Buddhism.
At the foot of this symmetrical figure, there is a dome which is lotus-shaped and accommodates the Ecumenical Centre of Kun Iam. You can also pay a visit to this small exhibition and get an education on Taoism, Confucianism and Buddhism literature.
Visit St. Lawrence Church
St. Lawrence one of the three (3) oldest church in Macau which was built in the mid of the 16th century by the Jesuits. Its current appearance, scale, and design were acquired in 1846. Its situation is on Macau's southern coastline which overlooks the sea. Portuguese sailors and families used to gather in front of the church to pray. Its neighborhood used to be relatively wealthy, thus the building's wealth and scale of architecture.
Getting To/From Macau
There are two terminal Ferries to and from Macau. One of the terminals is the Hong Kong-Macau Ferry which is on Hong Kong Island at Shun Tak station, and the other is the China Ferry which is at Tsim Sha Tsui on Kowloon.
Vladisla Kogsan is travel blogger from Australia also interested in Online Casino Reviews