The city of Lucknow – the capital of Uttar Pradesh in the north of India – is home to Awadhi cuisine. Although this cuisine incorporates both vegetarian and non-vegetarian dishes, with a cooking style very similar to that of Central Asia and the Middle East, we're going to focus on the cuisine's vegetarian dishes that are enjoyed each day.
Staple dishes in this part of India include kebabs and biryanis, both of which can be made with or without the addition of meat. The inhabitants of Lucknow are proud of their kebabs, and rightly so; while meat varieties may take centre stage, vegetarian options are also sold in large quantities on the city streets and inside people's homes.
One vegetarian variety of kebab is the KethalKe Kabab, which is made from Jackfruit. Raw jackfruit is renowned for being 'meaty' in texture, and its taste is commonly referred to as 'vegetarian mutton.' Another popular vegetarian kebab option is the Rajma Galoti Kebab, made from kidney beans which are simmered with a number of aromatic spices and herbs.
The Biryani – also known as the Lucknow Biryani – is the other staple Awadhi dish. In Lucknow, it is typically prepared and eaten with meat; the meat and rice are cooked separately before being layered together and baked. The vegetarian Biryani – referred to as Tehri in Lucknow – is made in a similar way and using similar spices. A vegetarian Biryani will often contain protein-based balls to give the resemblance of meat, and Tehris are an incredibly popular dish in Indian homes, being cheap, tasty and filling.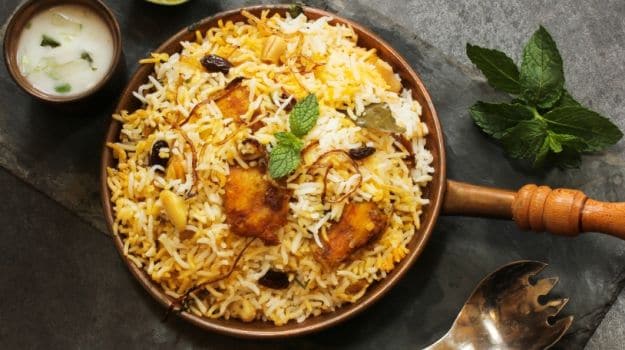 One other key vegetarian Awadhi dish is the Shahi Paneer. This dish comprises of paneer (cheese), cream, tomatoes and an expert blend of spices, with a finished texture that resembles a thick gravy. Shahi Paneer is typically eaten with Indian breads such as naan, chapatti or roti.
In fact, as with most Indian cuisines, bread is a staple food of Lucknow – and most recipes are vegetarian. As well as common breads such as those mentioned, Parathas are also very popular. The Paratha is essentially a roti stuffed with vegetables, paneer and pulses before being fried in ghee; it is a dense, filling bread that sometimes contains minced meat for non-vegetarians.
The lion's share of Lucknow desserts are of course vegetarian, and one of the most popular is the Moong Dal Halwa. This dish – made from moong dal, which is soaked and ground to paste before being mixed with milk, ghee, sugar, saffron and cardamom – is regularly enjoyed during celebrations such as Diwali and Holi, as well as featuring on many Indian wedding menus.
The people of Lucknow hold their vegetarian dishes in as high regard as those containing meat – not too surprising in a country with such a large vegetarian population! If you're a vegetarian or are curious about trying more vegetarian food, consider heading down to one of London's fine-dining Indian restaurants; the chefs here prepare authentic and exciting curries that are so delicious, you won't even notice there's no meat in them!