When planning to put together a great musical show where the choir group will be the main attraction, it is important to note that all singers in the group are in-sync with one another. In order to have all singers sync well together, the most obvious thing is to have rigorous rehearsals. Rehearsals and more practice is the best way to ensure that the show is perfect with absolutely no more room left for improvement.
In spite of the fact that rehearsals are important, practicing the same thing every day can get tiring and monotonous. So make sure that you keep the rehearsals different so that you can save singers from falling into the boring trap of doing the same thing. However, spicing up your regular rehearsals is not an easy task and choir show conductors need to think of different exciting activities. This is quite a challenge, but needs to be done for singers to get their act well.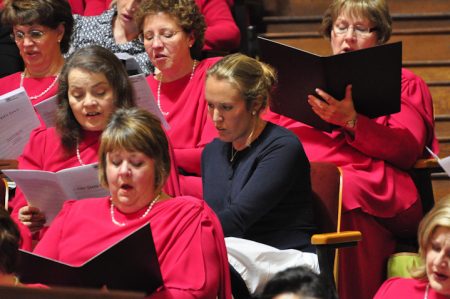 Let us come up with ideas that will help singers to feel united and put in their best efforts at all the rehearsals.
Have Fun Activities in Weekends – Weekends are all about letting your hair down and enjoying your time. So what if you have rehearsals to attend? You can have your share of fun in your rehearsals as well. Fun activities in your rehearsals are always great and welcoming because you get to indulge in some fun activities with your fellow singers. This gives you all a great time to bond which in turn help during your choir shows.
Each Singer Contributes One Idea – This activity needs to be like a task where all choir singers need to come up with a new idea every week. All singers will be given a chance to talk about an idea that will help the performance. This idea should help in improving the overall performance of the choir. This helps singers to debate and discuss different ideas and improve their communication.
Time for Interaction Among Singers – Practice and rehearsals can be rigorous and that is the main reason for singers to squeeze in some time and interact with fellow singers. Interaction and casual talk is a great way to build on your personal relationship with other singers. In order to have a great choir show, extensive practice is not good enough. You need to discuss music and enrich your knowledge as well because that increases your worldly knowledge about music.
No Same Warm Up Patterns – Warm up is the most important thing done right at the beginning of your rehearsals. Warm up opens up your voice and lets you experiment with your singing. If you can think of different warm up techniques then singers will always be interested to practice it. So think of creative ways and to get the help download choral music to know of bright warm up ideas.
Plan a Potluck – Potluck is one of the most trending ways to make things interesting in a large group. Planning a potluck once every month will allow singers to let their hair down and unwind over good food. This helps singers immensely to be interested in the choir rehearsals and be constantly motivated.
These pointers are just the beginning that will make rehearsals interesting for you. Hopefully, singers will find their motivation from these various ideas.