If your travel itineraries include flying over to Thailand for a well-deserved vacation, then look no further for a handful of useful things you can do in the Land of Smiles. Thailand features an assortment of activities to do and see and most of them could be found or done in the city. The capital supports the world's finest attractions and located not far away from major transportation routes such as the MRT and BTS stations. Getting around Bangkok is much easier than one would expect; there's buses, motorcycles, tuk-tuks, and taxis available in the city. Luckily, maps and road signs are now in English to help foreigners quickly navigate through Bangkok. For those peeled to their smartphones, foreigners can sign up for prepaid SIM cards to get the most out of Bangkok's free WiFi hotspots. Living in Bangkok should never be a hassle as the city is home to many well-rounded accommodation facilities within close proximity to each other. Make the most out of your Bangkok vacation and take note of the many fascinating places you can go to within traveling distance.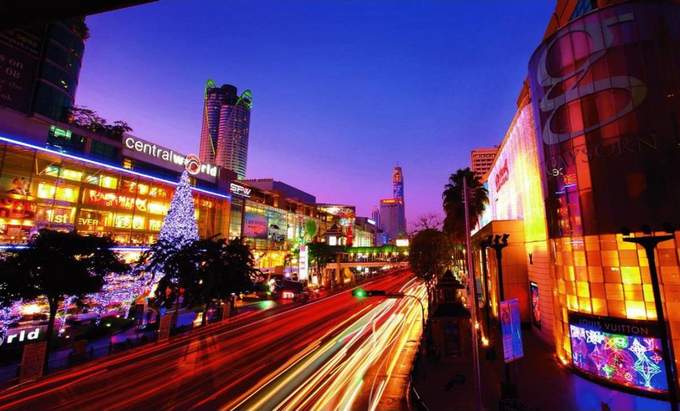 EXPENSIVE SHOPPING SPREES
Shopping is a convenience for anyone staying in Bangkok. There are many noteworthy shopping centres in the city; MBK Center, Siam Paragon,Central World, Central Chidlom, Em Quartier, and Silom Night Market. MBK Center consists of an astounding 2,000 stores and dining establishments found from the ground floor to the top floor. If youwould like to visit Tokyu Department Store, Naraya, Canon, Pizza Hut and Gloria Jean's Coffee, this mall is sure to satisfy. Siam Paragon is notable for being among the largest Asian shopping centres in Thailand. Fashion lovers are often seen at Siam Paragon, which is home to prominent brands such as Celine, Burberry, Fendi, Bvlgari, Marc Jacobs, Dolce & Gabbana, Hermes and much more.Other stores that carry brand name items include Central World and Em Quartier, Bangkok's newest mall next to Chidlom BTS.
CHEAP SHOPPING SPREES
For travelers looking for items that don't have a hefty price tag, Chatujak Weekend Market is an ideal location. The market opens every day from Monday to Sunday, but the market experiences more visitors on the weekends. What's there to see at JJ? Plenty.If you're looking for clothing, bags, accessories, shoes, electronics, and plants, you can certainly find them here. There's an unlimited selection of items sold in JJ; in some corners of the market, you'll spot vendors selling hand-painted sneakers or open-air galleries for dedicated art lovers to view and purchase artworks.
Whatever you may need in Bangkok to take back home, go to the weekend market to find everything you need for the ultimate souvenir.
Additionally, the Bangkok night markets found around the city sells tasty street food from hawkers, souvenirs, and authentic handicrafts. If you like nothing more than to browse through Bangkok markets, what better way than to delve into Bangkok's famous night market locations for incredible deals?
OPEN-AIR PARKS
Other than participate in extensive shopping, Bangkok is also home to one of its largest parks; Lumpini Park. The large and airy park spans 142 acres, decorated with trees, and smoothly paved roads for fitness freaks. In the evening, guests can take park in the park's exercise groups, flexing to fast-paced music and lead by fitness gurus dancing to the beats. Lumpini Park even has a manmade lake that gives people the chance to rent boats and dual-pontooned pleasure boats as well. If you want to enjoy a day of serenity while, you may benefit from a calming afternoon spent at Lumpini Park, located not far from notable hotels such as DusitThani Bangkok.
CULTURAL ATTRACTIONS
It's not a complete trip without visiting one of Bangkok's famous attractions, the Grand Palace and Wat PhraKaew. The Grand Palace is a stunning location used in the past and present as ceremonial grounds for important events. When the site isn't used, visitors can entire the palace grounds but they aren't able to enter the main palace itself. Wat PhraKaew, on the other hand, is a stunning and marvelous temple boasting the best of Thai aesthetics on the temple roofs, the gardens, to exquisitely drawn morals along the halls. AnyWeather Roofing explains that the roofs of these temples are embellished with polished orange and green tiles, and has pediments made of rich marble. However, before you plan on visiting these two sites, it's best to dress appropriately; shorts, sleeveless shirts, short skirts, and obscene T-shirts are prohibited. At the gates of the Grand Palace, vendors sell visitors clothing to wear to enter the palace grounds. Spending a day out at the palace and temple grounds would surely be exciting for experiencing one of Thailand's grandest locations.
Whether you're planning for an ultimate shopping spree or hanging out by Thailand's top shopping centres, it comes without question why Bangkok is dubbed, The City of Angels. Visitors will get to experience the wonders of Thailand found only hidden in the capital, begging them to explore the city to its fullest.