The Riad Shanima & SPA Deluxe is a combination with charm and relaxation in the Medina of Marrakech. Our team invites you to a star stay under the Thousand and One Nights in your Riad Shanima & Spa Marrakech You may think that paradise does not exist on our earth! But surely you can find pieces of your paradise!
You can just go to Riad Shanima & SPA to convince you, and enjoy a moment of pure pleasure during your stay. Upon your arrival you will feel transported you to another world. The charm of the Riad Shanima & Spa in Marrakech, the hospitality and professionalism of our staff, the atmosphere and the luxurious «Zenitude » will give you the impression of having passed the gates of the "Garden of Eden". Let the Magie operating and enjoy the calm of your room, to relax you after the hustle and bustle of the Medina of Marrakech. A little stay in our Hammam and Spa to immerse yourself in the Moroccan Hammam Ritual. Followed by a relaxing massage before enjoying a mint tea on the terrace of the Riad.
A wonderful Overview of the rooftops of Marrakech, the calm and the sérinity of the place will give you the impression of being transported to 7th heaven. You are now ready to enjoy the Moroccan flavors and spices and taking advantage of a dinner prepared by our cook Amina, such tanjia of Marrakesh, Tajine, Moroccan Pastilla……
At the end of the evening you'll have only one wish: that it lasts and starts again. At Riad Marrakech Shanima & Spa all is sweetness and pleasure, and our team does it utmost to make your stay unforgettable and give you the desire to come back and you will thinking like Voltaire: "the paradise on earth is where I am stay" At the Riad Shanima & SPA.. of course!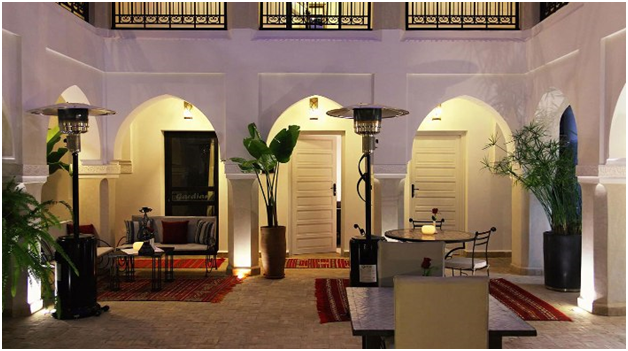 At Riad & Spa Shanima Welcoming Our Guests is Critical
RIAD AMINA Shanima & SPA will prepare you an ancestral dishes which she alone holds the secrets, while Adil or Mohcine, house cocktails serve you and offer you some great wines from the best grapes Moroccans, enjoy the months of January and was the half board available. There are two kinds of people: those who can be happy and are not and those who seek happiness without finding it. Find all of you Shanima RIAD & SPA MARRAKECH share a festive evening with musical entertainment that will allow you to exercise your dancing skills.
Life is steps … the sweetest is to stay at Riad & SPA … Shanima. The hardest thing is to go….. The best is to come back…. And regain our team that will make you an unforgettable stay in the thousand and one nights.