Are you a nature buff? Do you like to explore amazing sites, welcoming vistas and beautiful landscapes? If that is so then Himachal Pradesh is the place for you. When talking about this state, words fall really short. Once you visit the amazing spots that the land has stored for you, you are definitely going to fall in love with this place.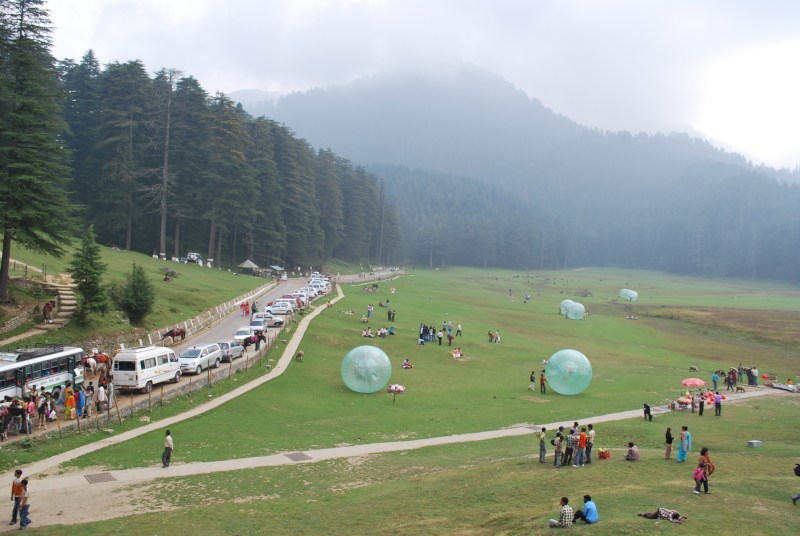 The tourist spots in Himachal are so mesmerising and unwinding that your vacation in this state is going to be eternal. The bright green meadows and immortal forests, Himachal Pradesh enjoys a destiny where the skyline is believed to be heavenly.  Snuggled amidst the lofty mountains, Himachal is one such destination in India wherein your holiday finds the ideal definition of nature at its finest. The best thing is that even if you are new to this state, you can avail something like Himachal tour package so as to keep your vacation stress free. The package is going to take you through all the mesmeric sites of the state. Anyhow, to excite you more, have a look at some of the incredible and arresting destinations of Himachal below:
Shimla: A Favourite Destination of Honeymooners
No matter you are visiting Shimla during the time of monsoon, summer, autumn or winter… the place is going to cater you utmost satisfaction.  This is a place situated at an elevation of 2,205 meters.  The hill station enjoys its own charm that keeps shining throughout the year. If you want to unwind and mesmerise then Shimla is the place.  The friendliest climate here can be found during the summer.   During the time of monsoon, the hill station is at its best in showcasing the luxurious green scenic attractiveness.   Talking about autumn, it is mild and lush and pulls the travellers from all around the world to explore the extensive collaboration of colonial heritage and nature.  Finally during the time of peak winter season, this hill station is capped with a dense layer of snow that is captivates the skiers from different corners. Since decades, Shimla has been housing various colonial buildings like the Christ Church, George Castle and so on.  Similarly don't miss out the temples like Tara Devi Temple and Jakhoo Temple. You can also explore museums at this place. While you are there, mall road is going to fill you with merriment and charm. You can find all the tourists, local people, honeymooners and foreigners scattered on the mall road!
Manali: A Mesmeric Hill Station
Manali is apparently one of the most exciting and heart winning destinations of Himachal Pradesh. A blissful experience in the middle of the snow-clad Himalayas and pea green deodar pine forests is one of the most common reasons why you must go to Manali. Manali is situated on banks of Beas River.  It caters a strange kind of escape from the true world. This is a spot to visit for both the adventurous trips and a tranquil and unwinding holiday.  And needless to say, this destination is all time favourite of couples.
Talking about adventure, apart from snow skiing, there are so many other outdoor adventurous activities as well. Similarly the spots adjoining Manali and their charm are an additional treat. You can walk through diverse destinations at Manali like Hidimba Temple, Naggar, Gauri Shankar Temple, and Solang Valley and so on. The place is certainly going to brim you with pleasure, adventure, charm and enjoyment.  Don't forget to capture the pictures. You might get the best backdrops out there for your most cherished moments.
Dalhousie: A Charming Spot for Everyone!
The colonial shades of this place are going to bring sparkle in your eyes. Dalhousie is situated at a height of 1,970 meters. It is one of the most popular hill stations in India. It is popular for encompassing various heritage buildings that dates back to the early 19th century. The St. Patrick's Church  at Balun  and St. Andrew's Church  , St. Francis' Church at Subash Chowk and the St. John's Church at Gandhi Chowk are a few of the main churches in Dalhousie that denote the typical European architectural chic.
Apart from these spots, the other significant destinations are like Chamunda Devi Temple, Rang Mahal, Jhandri Ghat, Bhuri Singh Museum and Shivkul ashram. The place is snuggled in the midst of dense forest of oak, deodar and pine in the Dhauladar range. Indeed, Dalhousie is a heaven for wildlife buffs and landscape shutterbugs. The Kalatop Wildlife Sanctuary that is around 5 kilometres from Dalhousie, scripts an enjoyable gateway. The place caters shelter to diverse species of flora and fauna. It also provides   several forest trails like the Kalatop-Khajjiar trek. All in all, the place, its surroundings, adjoining areas and everything is wow. You are definitely going to have good time there. Whether you are with your friends, alone, your partner, family or colleagues, this hill station is going to suffice your traveling buds.
Kasol: A Picturesque Destination
If you really love to witness the natural beauty and amazing sites then Kasol is the place. It is perched at a height of 1,650 meters and it is beautifully snuggled in the Parvati Valley.  It is a tiny yet another hill station in Himachal Pradesh that has gained immense popularity over the years. It is adored for having a picturesque environment. The place serves as a base camp for a few of the moderate treks in Himachal. It includes SAR Pass, Pin Parvati Pass, Yanker Pass and Khiri Ganga. Don't forget to carry along your camera to grab the picturesque sites of this fascinating destination.
Dharamshala: Appreciate its Captivating Landscape
Dharamshala is situated at a height of around 1,500 meters and is encircled with dense pine and deodar forests. It is one of the most amazing getaways for both adventurous and leisure travellers. This hill station is packed with various architectural and cultural fascinations that encompass the ruins of Kangra Fort and also the Nurpur Fort. Amidst diverse tourist spots here, the international cricket stadium in lap of the Dhauladar range is another chief tourist fascination in Dharamshala.
So, the list is not over yet, the more you dig, the more you get. In simple words, these were just a few of the gems of Himachal Pradesh, go ahead and visit this state to explore everything that it has to cater!