The state of Goa has numerous beaches that attract the beach lovers from all the states of the country. Some of these beaches are much famous due to   their natural view, sand on the coast, and aqua sports activities that can make one enjoy the beach visit and get to the best of the memories of being here enjoying some qualtiy time.
Known as the mother of all beaches this beach has a unique topography where it has the azure waters of Arabian Sea on one end and the hills on the other end. It is situated eight kilometers away from the Mapusa town and has a widespread of red laterite stones.  This has picturesque scenes and therefore gets the award of the best and most visited tourist spot in India.
Anjuna is a village in north Goa and holds a cultural significance to its existence apart from being the most tourist populated spot. It is a census town and one of twelve Bramhin communities of Bardez. There is a church in this village known as the St.Michel's church which was constructed in the year 1595 and is solely dedicated to S. Miguel. Following the same, the village celebrates festivities dedicated to Miguel, and these are the times one should visit Anjuna beach ad Anjuna village. People here celebrate the feast of St. Miguel that is held in the last week of September and the Nossa Senhora Advogada that is celebrated in the second week of January.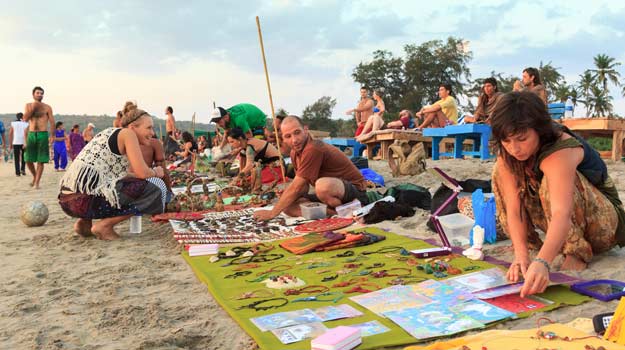 Apart from that, there are three parishes in Anjuna.  The first one is S. Antonio (Praias), to Nossa Senhora de Saude (Mazalvaddo), while the next one is to Nossa Senhora de Piedade (Grande Chinvar). The chapel situated at Vagator transformed as the church of Vagator, dedicated to S. Antonio, later in the twentieth century.
Anjuna beach is famous for the trance parties that are held every year. There are flocks of tourists who look forward to attending these parties as a part of a weeklong revelry and letting go of their worries, a method of distressing after months of stress concerning their jobs and other engagements. Some newlywed couples also visit this place to celebrate their start of a new journey. The beach also hosts full moon parties during Christmas and New Year.
Not just the beach exclusive experience, Anjuna hosts a flea market every Wednesday that sees a number of tourists come down to purchase junk jewelry, clothes, and other items from all over India and from foreigners. Not just inorganic items, the flea market also witnesses the transaction of fruits, hashish, and electronic devices. Anjuna beach stands out for its secluded ambiance, nightlife, parties, serene yet spectacular landscapes, reliable seafood dainties and voguish shopping opportunities. For more funny travel games you can visit talkmug.com to enjoy funny facebook travel games.
One can indulge in varied activities in Anjuna ranging from sports activities that include windsurfing, scuba diving, parasailing, and paragliding to leisure activities such as exploring the splendid Albuquerque mansion that was constructed in 1920 which is lined by the Octagonal towers appealing to the natural beauty of the Mascarenhas mansions apart from swimming and sunbathing.
Source: https://fogut.com/tourist-destinations-to-visit-in-goa/