The tourism industry in Thailand has been a great victim of the political instability prevailing in the region. As of the news scare, the number of vacationer arrivals has declined and hence, has resulted in a room occupancy rate of less than 20 percent. However, the truth is that none of the political turmoil has actually affected the daily lifestyle of people living in Thailand. If you are planning to travel to Thailand now, you will notice that there are some great reasons as why the country is loved globally.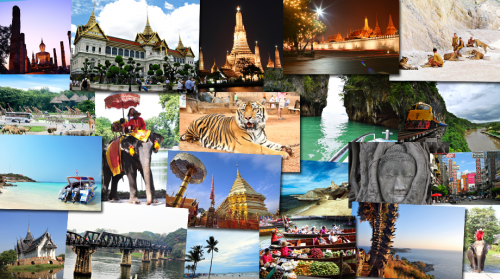 Delicious Food
You will find the best food while you are in Thailand that is not whipped by a master chef in a 7 star restaurant. The spiciest and tastiest food is made by the street vendors who form their very own communities on the footpaths. One of the must tries is the pork noodle soup, as it is one of the best soups you are ever going to taste in your life.
Riding The Elephant
Your trip to Thailand is incomplete if you have missed the elephant ride. To experience this adventure, you need to head north to the Elephant Nature Park located near Chiang Mai.
Thai people love elephants and often use them on their pastures and lands. Most of them have been trained so that you can even let them pick you up using their trunks. What would be more fun than an elephant picking you up with its trunk and then getting to ride this wonderful animal?
The River Market
While you are traveling to Thailand, you must visit the river market. The literal interpretation of the Thai name for this market is 'wet market', where you might actually get yourself wet if you lean too far out from the boat you are in. In this market, you will find all kinds of things ranging from vegetables and fruits to street foods, textiles, silk products, local handicrafts, garments, and so on. The best part is that all the items available here are inexpensive which makes it really worth the adventure.
Amazing Beaches
Thailand has some of the most beautiful and amazing beaches on Earth. Pack up all your beach wear and go to the islands of Ko Samet, Phuket, Ko Lipe, Ko Phangan and Ko Lanta. There you can enjoy the amazing beaches and sun to the fullest.
Affordable Travel
Your money will go a long way while you are visiting Thailand as everything is quite affordable. You can find good hotels in as low as $20 per night. You can go out and party as entertainment is not very expensive either. Shopping is more like a breeze and you can definitely find something for everyone without making holes in your pockets. Travel to Thailand if you want to go on a memorable, dream vacation on a tight budget, where you can experience culture, sand, sun, and nature all in one go!