Business class is a much more comfortable and posh way to travel in an airline. The service, food, and in-flight entertainment facilities are what make it a pleasurable experience to travel in business class.
But which airline offers the best business class service? While customer reviews provide a generic overview of the kind of services you'll find in business class of an airline, you cannot always trust them. There are several onlinewebsites where
To give you acloser look into the best business class services you'll find in any airlines, we've compiled a list of airlines. Here we go: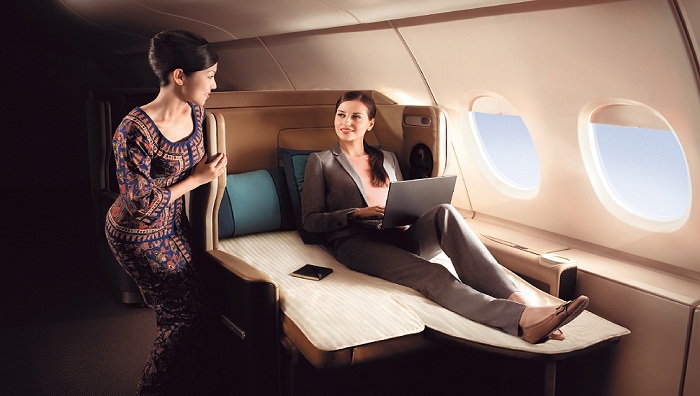 Lufthansa
Lufthansa, a German airline, has an amazing business class. The seas can be laid down flat for a quick nap between meetings, and various menus for those with different tastes. For in-flight entertainment, there are more than a hundred films and two hundred television shows available in about eight languages.
Hence, this airline caters to businessmen from all around the world and seeks to make them comfortable by providing what they're familiar with.
Air France
This European airline has recently upgraded its business class, making it even more attractive than before. Passengers get a private pod with a lie-flat bed and massive options for entertainment.
What's more, movies or shows can be viewed on a 16 inch HD screen instead of tiny fuzzy monitor-like screens. Additionally, their menus are specially designed by Michelin-starred chefs only.
Emirates
The current winner of the Best Airline in the World Award, Emirates also boasts one of the best business classes available. With a full cocktail bar, complimentarychauffeurs, top in-flight entertainment, and lie flat seats, Emirates makes sure your business class experience will be something to remember.
Etihad Airways
Another Asian airline, Etihad gives its business class passengers a range of choices. Its fleet of Boeing 787 and Airbus A380 superjumbos currently offer the Business Studio option. This option provides its passenger with a massaging bed, a touchscreen measuring 18.5 inches, and a Lobby lounge so that socializing with otherpassengers is a breeze!
EVA Air
Eva Air calls its business class the Royal Laurel Class and has produced one of the finest business classes in the world. The international long-haul business class especially is definitely worth the price.
The facilities provided include noise-cancelling headphones, lie-flat seat, superb in-flight entertainment and food options galore. The icing on the cake for many passengers, however, is probably the Rimowa overnight kit, which makes for an easy, comfortable, and worry-free flight.
Singapore Airlines
The business class providedby Singapore Airlines is the stuff of legend. A 78-inch bed, 18-inch HD screen, luxury gourmet food, and perfect service during, before, and after the flight. All of this makes sure that Singapore Airline stays firmly in the top five airlines of the world.
Qatar Airways
Qatar airways boasts the usual lie-flat bed, dining on demand, etc. what puts it over the top is the huge variety of in-flight entertainment, featuring over 3,000 TV-shows, games, movies, and songs. Add that to the GiorgioArmani amenity kit, and their passengers are in for the treat of a lifetime!
Wrapping Up…
While all the airlines in this list have amazing service, entertainment, food options, and high comfort levels, it is interesting that the very best ones are of Asian origin. Only after these do European airlines enter the competition. However, it is safe to say that traveling business class with any one of these airlines would make one's journeypleasant, smooth, and completely relaxing.
Author Bio: John Bishop is a Pro Writer and Blogger. He is most interested in writing about the travel and airline industry. In addition, he also renders assignment writing services | Finest Assignments to international students. You can connect with him of Google+.