Run for the hills! Want to know one of the best kept secrets to a successful meeting? Just invite your colleagues to an off-site meeting or retreat and you are guaranteed to improve corporate efficiency and clout at the same time. We all get run down and "burnt out" from all the hum drum and simply boring meetings but if you want to rejuvenate your staff and recharge their drive, you can make the escape to Honor's Haven Resort & Spa – just 100 miles north of New York City in the picturesque and breathtaking Catskill and Shawangunk Mountains on 250 pristine acres in Ulster County, New York. The resort is only 300 miles (485 km) from Montreal, 310 miles from Washington, D.C. (495 km), and only 230 miles from Boston (370 km).
Whether your organization just needs to meet for one hour or days, you can combine the experience to include wellness, catering, relaxation, be one with mother nature and converge harmoniously amongst vast wooded areas, tranquil lakes, crisp mountain air and awe-inspiring views. With a recent multi-million dollar renovation project completed, Honor's Haven Resort & Spa continues to breathe new life into a legendary resort, reestablishing its claim as the region's crown jewel.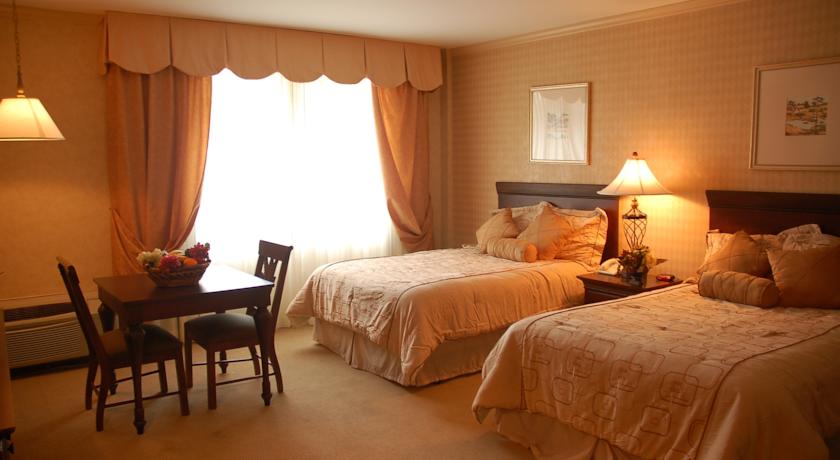 Why not encourage your staff to bring family members and make a long weekend of it or just enjoy the opportunity to commune in a peaceful and relaxing environment to stimulate those creative juices on your team.
If you're looking to coordinate a training seminar, holding a conference, throwing a special birthday, or hosting a wedding—putting together events like these are always a breeze when you have an event planner on your team. This facility offers over 48,000 square feet of space, 230 rooms and suites, 250 person capacity outdoor banquet tent at lakeside, two refreshing pools with Jacuzzi, more than 17,000 square foot exhibit center, a championship golf course, and spa for that total rejuvenation. There are five really good reasons to choose Honor's Haven Resort and Spa for your next conference.
The View – the Adirondack Region spreads outward with mountain vistas and rolling hills in over six million acres of tranquility and wonderment for all whether it's your first visit or you call it home. There are dynamic hues and color contrasts throughout the fall, winter typically means that a blanket of snow will bring out even the kid in you regardless of your age, spring is a reminder that life renews itself with blossoming flowers of all kinds, and summer allows us to just kick off our shoes, sit back, take it all in and let mother nature's pulse vibrate through your soul. Just partake in a scenic drive, hike, bike ride, or canoe trip and you'll rediscover the simpler side of life.
Recreation – you can enjoy seeking new personal challenges and sports without all the noise and hustle and bustle of city. With over 3,000 lakes, ponds, rivers, and streams, why not take a boating trip, canoe or kayak trip, or a white water rafting ride of a lifetime. You can couple your trip with camping at over 150 state owned and operated campgrounds, and why not trip a little fishing and hunting while you're at it? You can really rough it out or mix it up with some creature comforts of one of the many area resorts and lodges.
With so many activities to choose from, you could explore something new each day instead of the weekly grind in the office. There are many golf courses to choose from while you're taking in the majestic and awe-inspiring views. You may want to try mountain biking or road biking as well as one of the many trails in the region too. Each path or trail is scenic so you'll never go wrong. If you're more interested in lifting your feet of the ground, how about zip lining or if you want to couple an educational experience with your escape, check out the Adirondack Visitor and Nature Centers.
Culture and Arts – the Honor's site is located nearby the music and cultural center of the 1960s in Bethel, NY otherwise known as the Bethel Woods Center for the Arts. To appreciate the richness of the 18th – century exhibits, why not visit the Hyde Collection in Glen Falls, NY? Art including the greats like Picasso and Renoir are yours to discover. For something really unique, visit the Akwesasne Cultural Center in Hogansburg, NY where you'll see Mohawk culture up close and person.
History – with only a short drive away, you can visit Fort Ticonderoga. Sitting perched on Lake Champlain, this restored fort was one of the most important during the French and Indian Wars and American Revolution. If you're more in tuned with the American cultural experience, why not visit the Lake Placid Olympic Facilities and Museum? Over 3,000 artifacts await you at the Six Nations Indian Museum in Onchiota, NY.
Accessible – forget about the traffic snarls and bumper-to-bumper hassle of commuting during your weekly ritual – work. Honors is located about two hours from New York City, three hours from Philadelphia, six hours from Pittsburg, and only seven hours south of Bangor, Maine. Of course you could choose to drive, take AMTRAK, or fly. The Plattsburgh International Airport serves this region.
There are no excuses to visit the Adirondacks and more importantly, Honor's Haven Resort & Spa. All the seasons bring the best of clean air, and exciting views so you can commune with nature and regain your sanity and restore your soul. You could also begin completing your bucket list like taking a hot air balloon over Lake George, go skiing and snowmobiling in winter, take in a local scenic river or lake cruise, and take the "Cloudsplitter" Gondola up Whiteface Mountain at a summit of almost 3,700 feet.
Once you've visited the Adirondacks and Honors Haven Resort & Spa, you'll be counting down the days before your return.