The Gold Coast is one of Australia's choicest tourist destinations. It has dozens of clean and scenic beaches, a wide range of theme parks, exciting boat rides, whale watching opportunities, and live dinner shows. That is why it is known as a major hub of entertainment for fun seekers and holidaymakers. Here are some of the most exciting things you can do in the Gold Coast.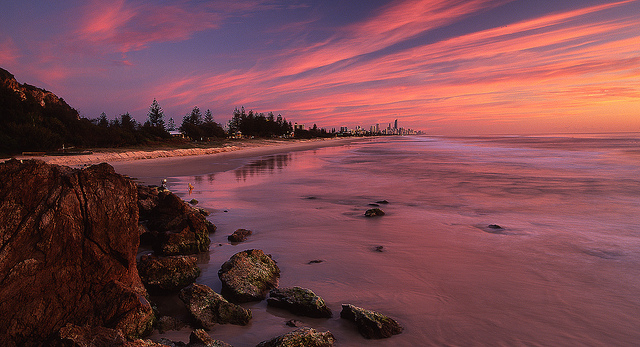 1. Explore Beautiful Beaches
The Gold Coast has a coastline that stretches for about 57 kilometres, providing plenty of clean sand and water for those who like to surf or bask in the sunshine. Each of the beaches including Palm Beach, Nobby Beach, Main Beach, Duranbah, Currumbin, Coolangatta, Broad Beach, and the popular Surfers' Paradise provide something unique. They are also extremely clean because locals take tremendous pride in their beaches. In addition, Surf Live Savers walk along each beach and most of them provide a mixture of barbecue and picnic areas as well as restaurants and cafés. Visitors will enjoy using the walking tracks to explore the coastline and cherish the scenic views of the beautiful coastline.
2. Take a Ride on a Jet Boat
Jet boat rides offer a more exciting way to explore the shores of the Gold Coast than a typical sea cruise. You will be able to view the marinas, surrounding islands and city skyline while you enjoy various stunts including high speed drifting and 360-degree spinning. You can also view a couple of beautiful landmarks such as the Palazzo Versace hotel, the Sea World theme park, and the South Stradbroke Island while you have some fun on the way. Most jet boat rides are scheduled to last for an hour, or half an hour. You should always remember to wear your sunglasses when you go on these rides. Wearing sunglasses will shield your eyes from the reflection of the sun's rays off the water and protect them from the spray of salt water.
3. Visit An Amusement Park
The theme parks in Gold Coast make a very popular destination for families visiting from other states and overseas. This is one of the major features that distinguishes the Gold Coast from other holiday resorts in Australia. Each theme park has high quality attractions and at least one major feature that sets it apart from the rest. Some provide amazing aquatic fun while others provide rope courses and zip-lines that allow you to travel over forests and lakes which have live crocodiles! Some of these zip-lines are up to 200 metres in length. Each of these parks has a variety of rides and slide shows designed for all ages and you find something fascinating to do or see during each season of the year.
4. Explore Currumbin Wildlife Sanctuary
Currumbin Wildlife Sanctuary is one of the leading coastal, wildlife and adventure rain forests in the Gold Coast. Formerly called the Currumbin Bird's Sanctuary, this wildlife park has hundreds of Australian animals residing in a natural bushland setting. It offers one of the best opportunities for true family sightseeing. You can see the wild lorikeet feeding, feed kangaroos and parrots, cuddle a koala, and watch the Snakes Alive show. In addition to the variety of animals, the park also has little trains that take you around the park. Also, there is an exciting tree ropes course for kids known as the Green Challenge. Here children can climb ladders, hang out in trees and balance on suspended bridges.
5. Go Whale Watching
The Gold Coast ranks among one of Australia's best destinations for whale watching. Their annual migratory season usually starts towards the end of May and extends up to early November every year. The whales migrate towards Australia's east coast every year as they move in search of warmer waters. During this time, you will have the opportunity to take a tour to see them while they come out to play. More than 10,000 whales move close the shores of the Gold Coast every year. The massive shallow bay provides a good location for these humpbacks to rest and play on their journey to the Great Barrier Reef. Various tour operators provide some guarantees while some offer to refund your money if no whales are cited on the trip.
Conclusion
Those are some of the exciting activities you can do when you visit the Gold Coast. To have the best experience in the Gold Coast, you should endeavour to book in advance for these activities and visit at the most suitable season.