"Telemedicine will become the core methodology of healthcare delivery in the future. That is where we are going to get the efficiencies, we need to provide affordable care." – Yulun Wang
Call it the need of the hour, telemedicine has been assisting people across the globe, with its diverse technological help. The connect between patients and doctors is going strong, thanks to telemedicine. With the pandemic shaking the whole world, the need for telemedicine has been strongly felt, appreciated, and leveraged.
A good telemedicine software is proving ideal for making healthcare and medical services accessible, secure, and flexible. Increasing number of healthcare service providers are offering telemedicine and telehealth services, through software solutions showcasing advanced and convenient features.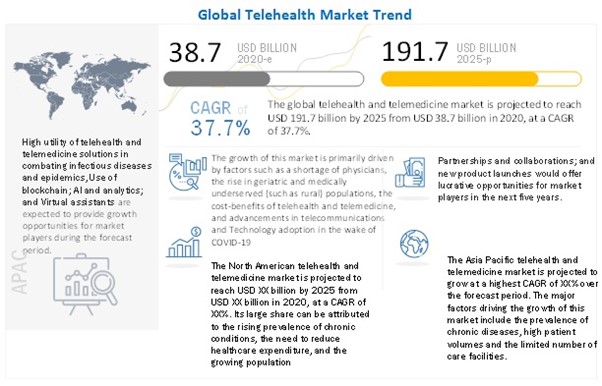 Here are proven statistics that emphasize the increasing demand for telemedicine in recent times and in the future:
Before we move onto understanding the key features of a telemedicine software, let us understand the concept:
What is Telemedicine?
Telemedicine is the practice of caring for patients using information and communication technologies like videoconferencing, calls, text/chat using mobile devices or computers. With the assistance of telemedicine software, healthcare professionals, doctors, supervisors, consultants can perform accurate diagnosis and treat patients sitting at a distance.
The different telemedicine categories include remote patient monitoring, store and forward, interactive medicine, follow-up visits, preventive care support, school-based telehealth, remote post-hospitalization. It proves to be a boon for those patients who have either limited access to advanced healthcare facilities or are unable to travel to the hospital for different reasons.
Key Benefits of Telemedicine
Advanced and quicker healthcare services
Least travel time and expenditure
Less exposure to infections
Easy follow-up process and better efficiency
Improved patient management and appointments
A good telemedicine software encompasses the potential of revolutionizing patient care, medical advice, and other processes like admissions through remote connect between patients and medical practitioners. Today, there are many telemedicine apps that are popular across the globe.
These apps are modern-day versions of effective support to patients and healthcare professionals, ensuring real-time and seamless interaction. Organizations today, are leveraging cutting edge technologies like AI, ML, Blockchain, IoT and Big Data while implementing Telemedicine software solutions
Key Features of a Telemedicine Software
Audio and Video Conferencing
Whenever a telemedicine software is being planned, the basic interface by which the patients can interact with their doctors and medical practitioners must be worked upon – audio and video conferencing is a must. This feature is critical in offering remote counselling, effectively and timely. It offers an almost real experience for both involved, enhancing the level of satisfaction at both ends.
Ensuring high-quality audio control and videos is necessary along with undisturbed network connectivity. The software must embed features like group calls, screen sharing, multiway video, audio calls etc. Ensuring a two-way communication over a secure connection, with high-quality audio-video works the best for an effective telemedicine setup.
Appointment Scheduling and Management
Online appointment scheduling and management is one needed feature that forms the crux of handling an effective telemedicine software. And it is important that this feature be easy and effective to operate. The patient must be able to book, change and cancel appointments with just a few clicks. This increases efficiency level of this software with features like integrating the calendar, getting round-the-clock access to appointment schedules.
Patients find it convenient to choose their desired timeslot, appointment confirmation is sent through emails or messages to all involved, and doctors can either approve or decline the appointments. It also shows the patient queue and details of each patient involved.
Prescribing medicines/line of treatment through electronic media is what E-prescription means. And that can be done well by doctors either during or after a telemedicine session. Even integration of these E-prescriptions can be done with pharmacy stores for routine check-ups or refilling prescriptions. This also helps in reducing human errors since it is completely automated and thereby, increases confidence in patients on getting the most accurate and secure treatment.
This feature is an essential one as it benefits patients, doctors, pharmacy units, converging them together and making it all faster and effective. It is needed that the telemedicine apps are compliant with regulatory bodies like HIPAA, FDA etc. There is an entire list of medications with dose instructions, lesser occurrence of errors, systematic procedures, enhanced patient safety, integrated pharmacy units and lesser cost of medication and reduced rehospitalization.
Billing and Payment Gateways
Having an easy and secure payment gateway is most necessary for a smooth functioning of the telemedicine app. There must a well-integrated payment system that ensures smooth and secure payment. For e.g., PayPal, Stripe etc.  With invoices getting generated directly in the system, it is easy to integrate it with the payment mechanism without any hassles of bounced payment, failed ones, refunds etc.
Some of the many benefits of a smooth payment experience are multiple payment options, automatic invoice generation, consistent records of payments, safe and secure payment compliance, user friendliness and lower rates than usual.
Clinical Document Generation and Sharing
There are many documents that get generated as patients and doctors interact, online. These clinical documents are logs, clinical tests, trials, records, and transcripts that rule the future treatment path. There is easy integration of these records with the database with high-end data security and data cleanliness. Risks of data breaches and errors is surely minimized.
Clinical documents and pictures/videos can be easily shared through the main medium prior to consultation and even after it. Doctors can view these documents to save on time and efforts.
Interactive Visualization Through Patient Dashboard
With such online data getting accumulated, the patient's dashboard is one ideal way of having a consolidated look at all medical records of the patients. This becomes easy for doctors to arrive at necessary treatment with lesser time and increased efficiency. These dashboards provide latest information on the condition of patients, history of visits, current medicines, existing illness, and complaints etc.
Maintaining and managing patient profiles at a single place is highly recommended. This includes maintenance of all details of the patient including personal details, medical details, medical history, and relevant papers. It becomes easy for patients to share any needed information by extracting it easily from the set profile. It is easy for patients to choose the app medical assistance from the profile, for remote consultation.
In-app Messaging and Instant Chats
In cases where audio and video facility are not very dependable, in-app messaging and instant chats work best. These chat sessions facilitate patients for exchanging text-based messages and sharing of photos/reports etc. This feature is better applied during follow up visits when the audio/video is not that critical or there is yet another session in place
Automated Reminders, Alerts and Notifications
Automatic generation of reminders, alerts and notifications is much required and best done through a telemedicine software. There are automated reminders and alerts reminding the doctors and patients of forthcoming appointments, so that none of them tend to forget it. Notifications are apt for informing all about the appointments, reports, medicines etc. Patients can easily get their prescription, medical history notes, bills etc. through emails or messages.
Compliance to Global Standards like HIPAA
A telemedicine software must adhere to centralized standards like HIPAA (Health Insurance Portability and Accountability Act) that comes up with major guidelines for taking care of private data of patients. Any good software must be HIPAA compliant, in sync with these guidelines so that their data is always protected, and patients are able to put complete trust in the system. It also ensures secure integration of the system with third party tools like video cameras, audio tools etc. Major data security features like encryption facilitate keeping patient data safe and secure.
Analysis and Management of Patient History
Telemedicine software doesn't only offer appointments and medical advice. It also maintains the history of patient information and comes up with required analytical information that can be of great use to medical practitioners to understand the entire path of the patient health history. This helps doctors in coming to perfect medical conclusions that can better patient health in a faster way.
Having a simple yet efficient start to using the software is a great relief. Generally, today's effective solutions have a single sign on. A one step log in and you are into the system, operating all features. Having a multi-layer approach may lead to a chaos maintaining them all, especially the email ids, different logins, passwords etc. Hence, having an easy procedure to enter the system is surely beneficial.
Seamless Integration of Digital Marketing and Custom Branding
Without a proper integration of digital marketing initiatives and branding mechanisms, the telemedicine software would look incomplete. Integration of Google Analytics, SEO keywords, meta data management etc. are some steps needed for an easy digital marketing strategy. Even customized branding, social media integration, content management systems, multilingual support etc. are needed in the solution.
Maintenance of EMR (Electronic Medical Records) and EHR (Electronic Health Records)
EHR and EMR integration increases the chances of an effective telemedicine app. EMR maintains the medical records of patients, old and new. Whereas EHR maintains the electronic health records. Both these ensure a consistent patient record processing. It also includes prevention of data duplication owing to virtual visits. Such apps become easy to use, offer extensive patient care, enhanced patient data collection and have integrated payment systems.
As We Wrap Up
With telemedicine software solutions being adapted by organizations worldwide, a better healthcare management system is coming into place. There are many more features that are becoming an integral part of these telemedicine apps, but the ones mentioned above are those which are almost a must to have effective results.
Thanks to modern-day telemedicine, these web-based and mobile apps are now becoming indispensable for patients and doctors alike. Highly convenient, safe, and effective, Telemedicine and telehealth are the stars of tomorrow.