Of the many wonderful places to see in Uttarakhand, Nainital surely makes it to the top of the list. A beautiful hill station in the Kumaon foothills, Nainital is surely a very nice destination to enjoy a quiet holiday with your family or even your honeymoon.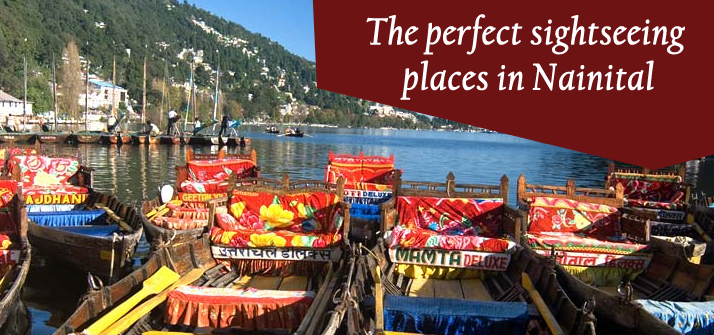 Many tourists throughout the year flock to this place and the fact that there is no dearth of hotels and resorts in nainital, makes it very easy to find accommodation over here. So, if you want to plan a honeymoon trip to this beautiful place then the first thing that you should do is find out the places that are a must visit! Let's take a look at some of the perfect sightseeing places that you cannot afford to give a miss when in Nainital:
The Naini Lake: You have to visit this water body after which this entire hill station is named. This is the perfect place to enjoy some serenity and solitude. Head out to the Naini lake with your family especially if you have young ones who are eager to try out boating! You can also simply sit by the banks of this lake and enjoy a perfect view of the surroundings and revel in a lovely sunset. After a tired day of sightseeing this will surely offer a nice respite.
Tiffin Top: Located about 2292mts above sea level, this is the place where an English woman named Dorothy used to sit all day and paint. It is in her honour that this point in the Aryapatta Hills is also known as Dorothy's seat. Once you go to this place you will get to witness the beauty of Nainital and the grandeur of the surrounding Himalayan mountains. Do not forget to carry your camera with you when visiting the Tiffin top.
The Nainital Zoo: If it is the wildlife that you love then head out to the Nainital zoo. Located in a hill slope of this hill station, local people refer to this place as the 'Sher ka Danda.' It is very easily accessible from any one of the five star hotels in nainital. You will find a number of endangered species housed in this zoo and it promises to be a real treat!
The Aerial Ropeway: Another thing that you should try out when in Nainital is the Aerial Ropeway. This ropeway connects Mallital with Snow view point. The best part about this ropeway is that it not only offers an excellent view of the Naini Lake but also the entire town of Nainital. Many tourists make it a point to visit this place when in Nainital and it should be on your sightseeing list too!
Naina Devi Temple: Devoted to goddess Naini, this is one of Shakti peeths which are extremely important in the Hindu religion. It is located quite near the Naini lake on the Naina hillock and almost all tourists visit this temple. This is one of the most popular sightseeing places in Nainital.
These are the top 5 places that you should visit when in Nainital. Explore the hill station on foot to soak in the beauty that defines it!