There are many places that you should see when you're in Suffolk. Whether you're visiting or living in the county, you'll be doing yourself a favour to see some of the great places it has to offer. Here are some of our suggestions:
Aldeburgh
Aldeburgh is mostly known for its cultural events, including the Aldeburgh Festival of Music and the Arts in June, founded by Benjamin Britten in 1948. The seaside town has its own high street boasting plenty of shops and restaurants, as well as a 16th-century, half-timbered Moot Hall with a small museum of local history, featuring Anglo-Saxon discoveries.
Dunwich
Dunwich was once a thriving port. The museum even has an interesting model of what it was like in the 13th century before it was swept away by the sea. It's now a small village consisting of more than 100 residents, which is a careful reminder of the power of the sea along this stretch of coast, as well as being a good area for exploring the RSPB bird reserves at Dunwich heath and Minsmere.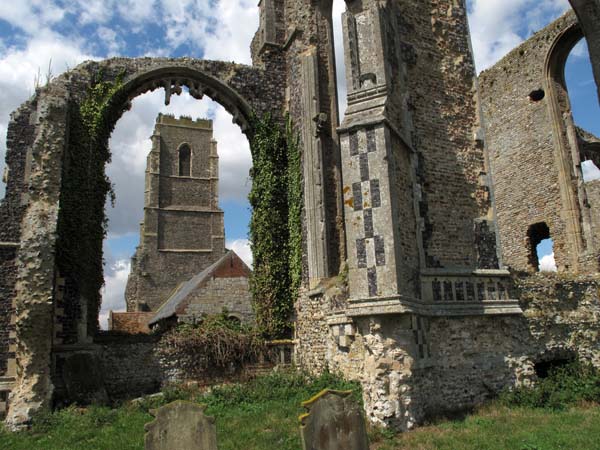 Dunwich Heath Coastal Centre
The Coastal Centre, located near Saxmundham, hosts warblers, nightjars and woodlarks. If you visit from July to September you'll be treated to a colourful combination of purple heather and yellow gorse. There are also guided walks and nature trails, as well as a tea room.
Flatford Mill
Flatford Mill sits in the heart of Constable Country, which is now a Field Studies Centre. The Mill was owned by the father of the famous English painter John Constable. There is also a small exhibition housed in Bridge Cottage, currently owned by the National Trust, as well as some lovely walks scattered around Dedham Vale featuring locations where Constable painted.
Ickworth Park and Gardens
Ickworth Park and Gardens has a Georgian house and rotunda in Italianate gardens, with a collection of paintings that include Titian and Gainsborough.
Lavenham
Lavenham is the most peaceful of Suffolk's wool towns, featuring a collection of 15th-century, half-timbered homes. Be sure to pay a visit to the old Guildhall overlooking the market square, now maintained and operated by the National Trust.
Orford
Ordford features a 90-foot castle keep, which is all that currently remains of the 12th-century castle built by Henry II. This quiet old port, featuring a 14th-century church of Bartholomew, is protected by the long land spit of Orford Ness, currently owned by the National Trust. Boat trips are available, and you can also buy freshly baked bread from the Pump Street bakery, and smoked fish from Pinney's.
Southwold
Southwold holds an interesting mix of fisherman's cottages and Georgian town houses, and is well worth a visit, even if you only have time for cream tea and a browse around the local shops. Visit the idiosyncratic museum with the old town whipping post and visit the church of St Edmund, where you can see the graffiti dating from Cromwellian times inscribed in the choir stalls.
Sutton Hoo
Sutton Hoo, located near Woodbridge, is an Anglo-Saxon burial site that dates from early 7th-century, up until its excavation in 1939. Set on a gorgeous 225-acre site overlooking the River Deben, you can walk around the ancient burial mounds and see the reconstruction of the burial chamber.
If you want to travel to Suffolk, you can visit : Gladwins Farm