A trip to Ireland would be incomplete without sampling the scenic views of Galway. Situated in western Ireland, County Galway is one of Ireland's major towns and home to a huge chunk of Irish natural attractions. Enough to guarantee an exhilarating Galway tours experience.
To get to Galways from Dublin, Ireland's capital, you have many options. The easiest and quickest means is air. Catch a flight from Dublin International Airport to either Shannon Airport or Knock then drive for about an hour to Galways.
If you have lax schedules you can slow it down a bit and crawl to Galways in a bus. Though it will be quite a long journey, about three hours to be precise, you will get a chance to enjoy the breathtaking sights along the way.
You may even decide to take the journey with fellow visitors. There are bus tours complete with experienced tour guides ready to give you a memorable experience.
If you prefer rail, there are trains in Dublin-Galway route. The journey will also take around three hours, and as if to compensate the fatigue you will be served with panoramic views along the way.
5 Spots to check out during Galway Tours
You even don't have to leave the city environs to be awed. There are many spots right within Galway town you will find interesting.
You can sample the Spanish Arch. It's a 16th century monument that's interesting.
Experience the Irish heritage at Galway City Museum. The national Irish language theater, Taibhdhearc na Gaillimhe is a must stop.
Have a look at the impressive Galway Cathedral situated on the banks of River Corrib. Or the medieval Collegiate Church of St. Nicholas.
Eyre Square, as called John F. Kennedy Memorial Park is a fine spot to relax.
Lynch's Castle and Dunguaire Castle are some monuments you can check out. If you have some time left, sum it up at Galway Bay.
The cliff is perhaps the most spectacular natural sight in Ireland. Listed in the UNESCO world heritage sites, it attracts over a million visitors annually. In deed it's the highlight of Galway tours.
The Cliffs of Moher takes its name from an ancient promontory fort called Mothar or Moher. The fort is said to have been destroyed during the Napoleonic wars. The epic beauty of the cliff however erodes all the evidence of destruction.
Towering a whopping 700 feet (213m) and stretching about 5 miles (8km) and overlooking the Atlantic, the cliffs are a sight to behold.
There are many things you could do at the cliffs. Visitors always look forward to the thrilling walk along the 800m pathway. Be sure to stop over at the three viewing points and get different views of the cliff.
At the highest point, O'Brien's Tower, gives you unlimited vistas view all round. On a clear day you can see the three Aran Islands, Liscannor and Lahinch.
Then the place you don't dare go with your camera's memory almost full. The birds viewing point is just beyond description. Too beautiful. Here you will get to see different species of birds.
And don't leave without visiting the underground Visitors' Center and picking a souvenir.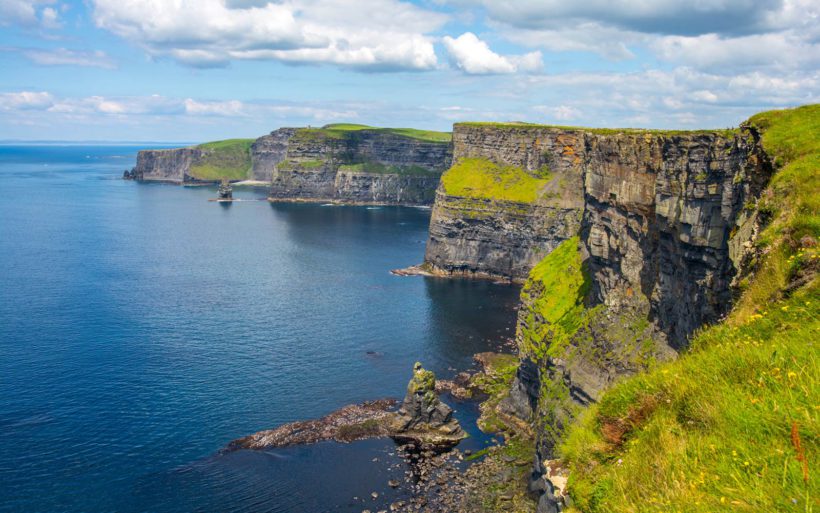 This a 2957 hectares of land scattered with mountain ranges, rugged bogs, grassland and forest, lakes and great beaches.
You can experience Connemara in different ways. You can take a walk along the walking trails as you marvel at the amazing nature. At the 400m high Diamond Hill you get a good vistas view of the surrounding.
As you check out the birds and wildlife, don't leave out the exhibitions at the Visitors' Center.
It's a group of three islands: Inis Mor, Inis Oirr and Inis Meain. The landscape is rugged with many cliffs. From monuments to natural attractions, there is a lot to see in the roughly 46km stretch.
As you walk or cycle find these intriguing sites: Dun Aonghasa, the Worm Hole, Stone Walls, Black Fort, Light House and Dun Eochaill, the Seven Churches among others.
This jaw-dropping natural attraction is shared by both Co Galway and Co Clare. In Gaelic, burren means rocky place. It's famous for its eccentric rock formations.
The predominantly karst landscape, cracked limestone pavements. It's also littered with caves and cliffs over the 250 square kilometers of land.
Check out the smallest national park in Ireland, the Burren National Park. There are several monuments one could tour, for example: Corcomroe Abbey, Caherconnell Stone Fort and Poulnabrone dolmen. Prehistoric tombs can also be viewed.
Three things you can do at the Burren. Foremost, take a walk in the calm environment. The rocky terrain is also suitable for rock climbing. If you love caving there are sufficient caves to just that.
For unique, memorable and fun-filled Galway tours, travel with Dublin Tour Company.
Florin A. is definitely a Digital Advertising professional and blog writer who loves to explore the most recent trends in business, technological know-how and advertising and creates about a variety of articles.