Do you have a video that you feel just needs some background music to really make it feel professionally produced? Or maybe instead you feel that you want to record and insert a voiceover into an existing video? In both these cases, the Movavi Video Editor has what is needed to make that a reality.
By using the software to add audio, you'll be able to insert audio tracks that are comprised of pretty much any audio format you desire – including MP3, WMA, OGG, or FLAC. Needless to say, the first step is to ready the audio itself, and you can do so by either locating the music that you need or by recording the voiceover that you want to insert over a microphone.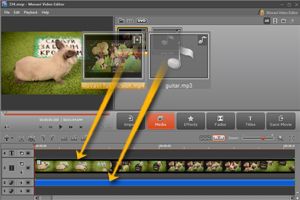 Once the audio track is ready, all that you need to do to insert it into your video is:
1. In the main panel of the software locate the 'Add Media Files' option and click it.
2. Select both the video as well as the audio that you want to add and load them into the software.
3. Go to the 'Media' tab and drag the video into the 'Timeline' located near the bottom.
4. Drag the audio into the 'Timeline' too.
5. At this point, your video and audio should both be occupying their corresponding tracks in the 'Timeline' and if    they match up – great. If not, you can edit the audio accordingly, i.e. if it is too short then copy and double the audio  and if it is too long, trim the unnecessary parts out.
6. Once you're done, save the video using one of the presets to automatically optimize it for the platform or device    that you're using.
While you're at it, you may want to take advantage of some of the other features that the Movavi Video Editor brings to the table – such as enhancing the quality of your video, inserting filters or special effects, adding customizable text to form titles, subtitles or captions, or even cropping or rotating the video itself. All these features are just as easy to use as it was to add the audio track – so you should have no problems figuring them out.
Frankly speaking, now that you know how to add music to a video it should extend your range of options considerably and let you add any audio that is needed. For example, if you don't feel comfortable recording a voiceover at the same time as you're recording the video, you could always just record a 'mute' video and then add the voiceover later. Go ahead and try it out for yourself – you'll see just how easy it is.