Bedroom is the most important room for the following day, as it connects to yoursleep quality. Only the good decorated and well organized bedroom can guarantee you the good quality sleep. Melody Home has tailed down 6 quick fixes ways for you.
Try to use the Unisex Style
We seldom think of gender when decorating the bedroom. In fact, if you can take it into consideration, it may help you a lot for decorating. A bedroom either too feminine or too masculine may makeanother half feel uncomfortable. Try the gender neutral style for your bedroom, which is a double win strategy. Before decorating, you might as well ask your spouse's suggestion or idea about the colors, materials etc. The style which appeals to your both equality can bring you a sweater marriage.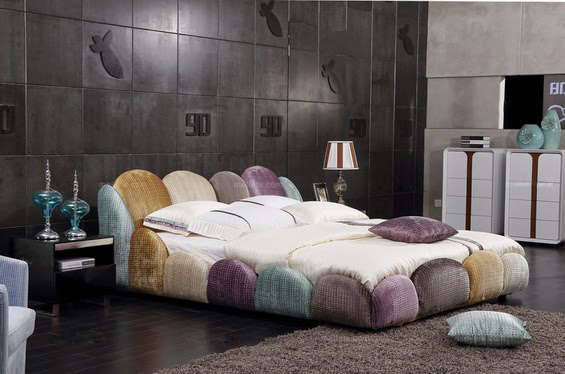 Give Furniture Some Breathing Space
It is a taboo for home decorating that place furniture close to each other, which not only makes the whole space looks awkward, but also wastes resources. Gracious living means space with ease. Spend more of your budgets on better quality products rather than stuff the space with the gills which your search from the flea market.
Use Pattern Sparingly
Though colorful and variety patterns may make your bedroom different from other, it is hard to keep harmony among the colors and pattern. If with many eye distracting patterns, it may seem awkward for others. Therefore, you will get the contrary effect. The safest way is to use pattern sparingly. That is to say, try the beddings such as sheets and pillowcase in a similar pattern.
Hang Artwork at the Right Place and Height
Artworks are forever good articles to decorate your home and make it different. But you have to place it at the right position and height. The average human eye level is 57 inches. Therefore, the midline of each piece is around 57 inches to 60 inches from the floor. If you are not sure about it, you may take a photo and check it. It is remarkable how much a photo can reveal.
Create a Focal Point
This is way l emphasis that do use pattern sparingly. The focal point is very important for any room. It might be a headboard in your bedroom. Whatever it is, choose something that will draw attention. Allow other items to take a secondary role but not the leading role. Otherwise, your bedroom will result in visual confusion.
Know Your Limitations
No matter how enthusiastic you feel about remolding a bedroom on your own, sometimes it pays to bring in the professionals. Do not do it by yourself if the condition is out of your capability. Otherwise, no professionals are needed. For instance, if your water pipe is broken or the roof is leaking water, though you can think of ways to solve the temporary problems, it will not work for long. To avoid the long existing problems, you had better ask professionals for help. If you have good ideas or suggestion about the quick fixes ways for bedroom, do not hesitant to contact us on melodyhome.