Sales is arguably the most stressed department within an any given company. Being under constant stress, they have to keep tabs on numerous customers and drive each of them towards the mutually profitable agreement thus securing a company's very existence.
A well-tuned CRM system proves to be a salesperson's indispensable aide. According to recent surveys, CRM usage:
Helps to drive and boost sales as 75% respondents asserted;
Contributes to positive customer experience, while 70% of satisfied customers are likely to advertise the company through word-of-mouth;
Increases revenues per individual sales representative by 41%;
Adds 27% to customer retention rates;
Sky-rockets sales conversion rate by impressive 300%.
These figures are convincing enough: currently, 61% of sales distributors are using a CRM and this number is constantly rising. Introducing sales automation software is a no-brainer decision, but picking a best sales management software option is often problematic. Thus, here's a brief review of 6 time-tested sales CRMs which are definitely up for the job.
Bpm'online Sales
Bpm'online Sales is a CRM software for sales management designed to assist with long corporate deals and quick B2C orders alike. True to its acronym, a special emphasis is made on automating sales activities according to fail-proof business processes. The platform features an easy-to use process builder which allows to design processes tailored specifically to your business layout. Among the other advantages, users note an intuitive interface which makes assists in initial deployment and training. Bmp'online is one of the best price-to-features ratios on the market and ability to encompass the entire sales process from acquiring leads to document flow automation. Well-thought tools for sales forecasting, opportunity analysis, teamwork coordination and field salesforce management put the users in full control of every aspect of the sales cycle.
On top of that, the platform is fairly flexible: with a bit of configuring leveraged by extensive tutorials and guidelines you can easily customize Bpm'online to cater your business needs with maximum efficiency.
On the downside, the user community is not very developed: although user support team works flawlessly, while the official educational recourses cover every aspect — there isn't much insight to gain from fellow users.
Salesforce Sales Cloud
The philosophy behind Sales Cloud is to ease the burden of sales managers through intelligent feature-rich CRM environment. The platform serves its purpose well: with notably user-friendly interface, sales representatives are able to fill the customer database with clean accurate data crucial for future negotiations. A platform's renowned ability to build customized dashboards and reports allows to acquire analytics easily, while excellent sales funnel visualization helps to identify faults of existing business practices.
Sales Cloud shines in remote work, although its phone dialing is a bit messy: to many repetitive actions are required when dealing with large volumes of calls. Synchronization issues across different platforms have been noticed. Being a complex product, Sales Cloud requires a skilled administrator's assistance when the need to implement new features arises.
Pipedrive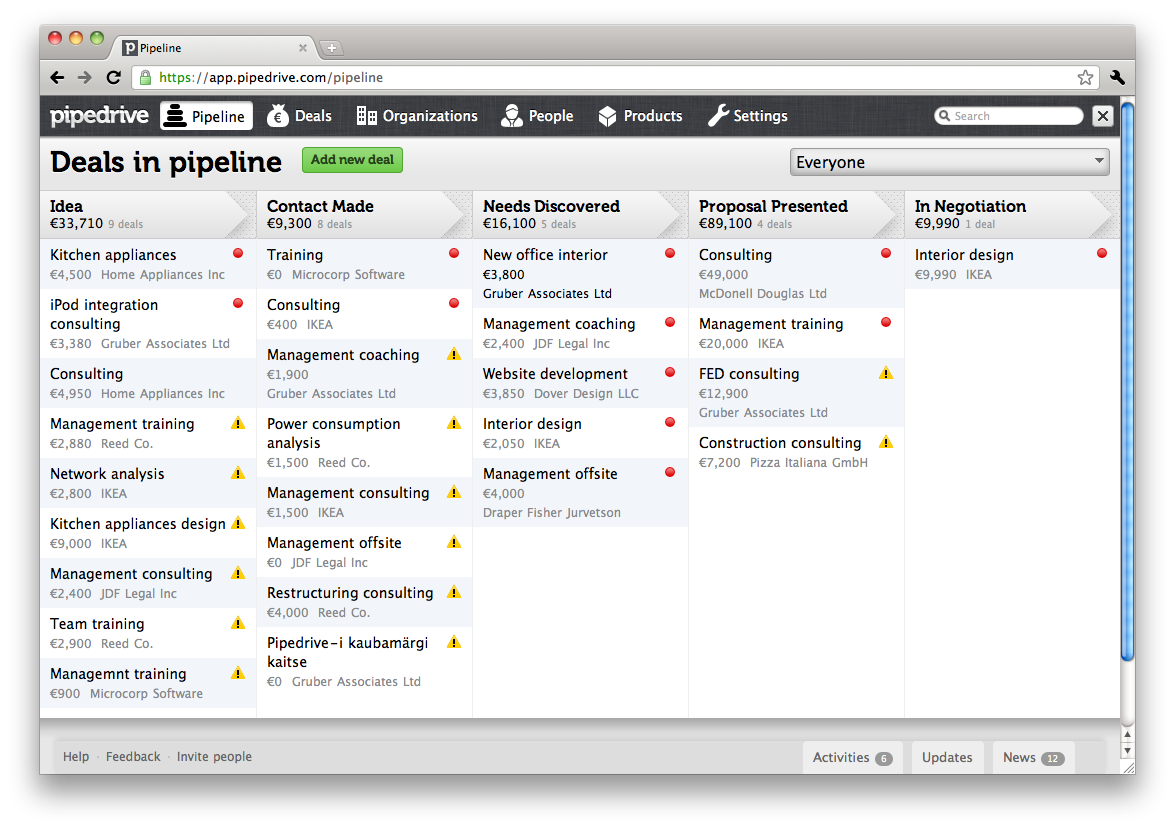 Although somewhat lacking in functionality, Pipedrive is an affordable and reliable sales management software for tracking sales activities without being overwhelmed with too many advanced features, which Pipedrive's high-tier competitors have to offer. Implementing and using this product poses no problems, while its helpful user community is widely praised. This platform is strongly focused on direct sales and features a robust selection of instruments to coordinate the sales pipeline efficiently. Mobile devices support is also highly developed.
As for the drawbacks, the report builder is very simplistic and hardly sufficient for advanced tasks. Although a decent number of third-party integrations is claimed, some of them (e.g. Outlook 365) don't work as intended. Certain tasks (e.g., setting up reminders for follow-ups) aren't automated, so it is quite fatiguing to process large volumes of work.
Zoho CRM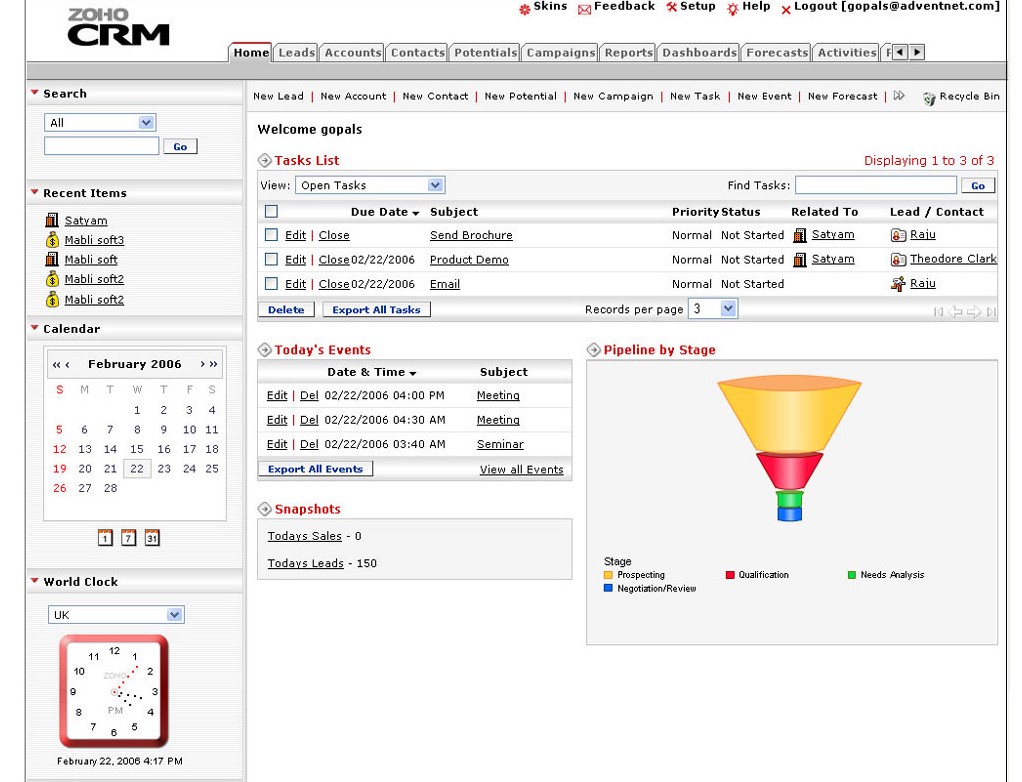 Zoho CRM is an increasingly popular sales management tool aimed at small businesses. Its goal is to boost productivity of a sales department with limited human resources. To do that, the system offers a wide array of instruments for automating routine tasks like scheduling follow-up calls, filling customer base, building reports and so on.
The users praise Zoho for overall customizability and flexibility combined with a well-documented API which opens a wide avenue for third-party integrations. The price is also quite appealing.
The greatest flaw of this CRM is their call center located in India: long response times, no call-backs and embarrassing language problems make calling their tech support a last resort. Although more tech-savvy users agree that when correctly configured, Zoho becomes one of the best software tools for sales management, doing the tuning takes substantial time, skill and effort, while lacunas in documentation certainly don't help to amend the problem.
Insightly
Like many other solutions on the market, Insightly strives to simplify the day-to-day work of marketing and sales. With an emphasis on project management, Insightly will be handy for ensuring flawless cooperation between marketing (updating info on prospects) and sales (placing them into a sales sequence). Needless to say, it also provides a decent control over the whole sales cycle from initial negotiations to closing the deal.
On the downside, setting the platform up and running may pose a challenge for less skilled administrators — certain configuration aspects are counterintuitive. According to its users, the platform's reporting options aren't sufficiently flexible, and the tech support lacks personal touch.
SugarCRM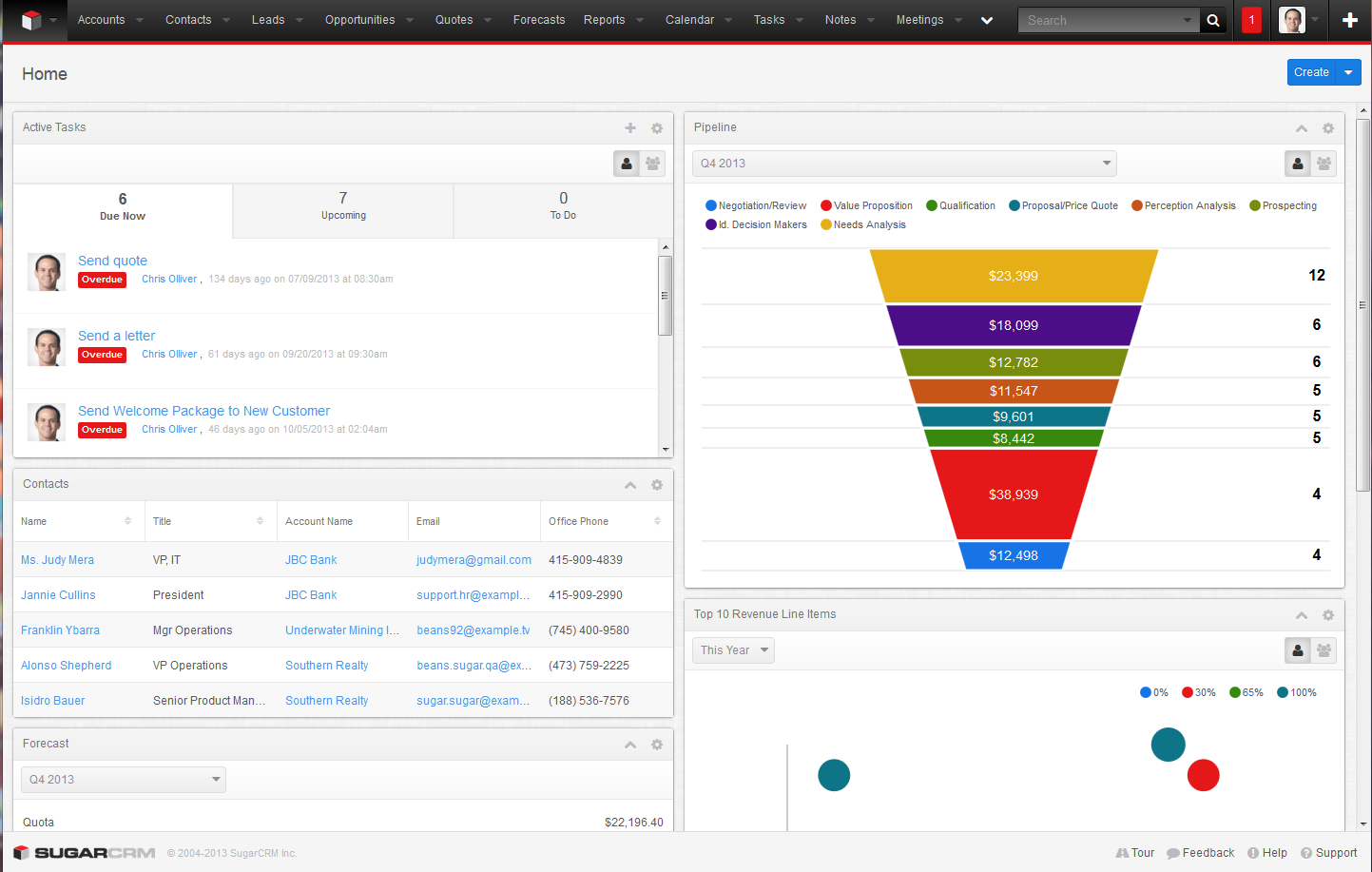 SugarCRM allows to monitor the customer journey at any point, automate many of the sales routine tasks and ensure efficient decision-making. SugarCRM distances itself from "overblown" sales management software solutions by offering basic automation functional and flexibility coupled with intuitive interface designed for easy implementation.
While setting up and initial configuration is brief and comparatively effortless, more demanding users may find the platform's features scarce. With its attractive per-user rates this system is a good choice for companies wishing to test basic CRM capabilities and assess their actual needs.
Although the developers are working hard to eliminate lingering bugs, users complain that every upgrade adds several new nuisances, while the system on the whole is quite cumbersome. On the practical side, report building is far from perfect and cross-search between through different types of records isn't available.