Music will meet science will meet workmanship at "The Sounds of Science" at 2 p.m. Saturday at Krannert Art Museum, 500 E. Peabody Drive, C.
The irregular occasion will offer new music composed by University of Illinois music piece understudies because of plant exploration done by UI researchers. Out and out, the free show will offer six researchers and six unique creations focused around the "sonification" of their essential examination information.
They are, with authors recorded initially taken after by the name of the researcher whose work for which they composed music: Kyle Shaw and Berkley Walker; Barry Morse and Craig Yendrek; Mary Pietrowicz and Justin Mcgrath; Sam Gingher and Charles Pignon; Mo Abbott and Ursula Melissa Ruiz Vera; and Lucas Smith and Deepak Jaiswal.
The performers will be Melody Chua on woodwind and Tomoko Ono, synthesizer.
"This will be "live" yet a great part of the music is machine produced," Walker said. "There are a couple of pieces with consoles and unified with a synthesizer and a woodwind."
The execution will incorporate a short talk by every researcher about how their examination is changing the way plants are seen by the general population, took after by the creation motivated by their information.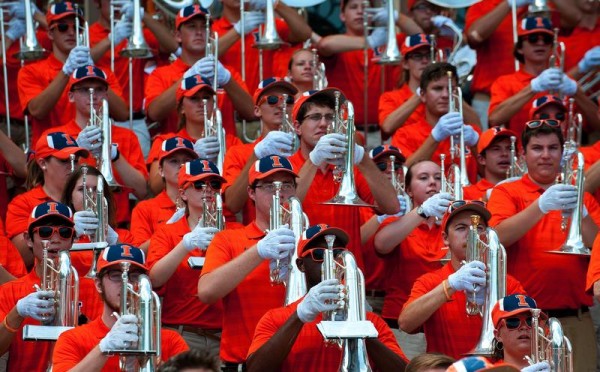 Admission to the gallery is free however a $3 gift is recommended.
Pledge drives set for Relay forever
URBANA — The American Cancer Society Relay for Life of Champaign County will have three music raising money occasions this fall.
The principal, its yearly outside show, will offer the Feudin' Hillbillys from 9 to 11 p.m. Saturday outside at Boomerangs Bar and Grill, 1309 E. Washington St., U. After that the occasion will move inside, with sets from Rhinestone Cowgirls, another nation band offering Tommy and Guido from the band 90's Daughter.
The occasion, with all returns setting off to the American Cancer Society, additionally will incorporate a 50/50 pool, blessing cards, wager bundles and different things.
Quintet execution
CHAMPAIGN — The Matthew Muneses Quintet will perform from 6:30 to 8:30 p.m. Friday at the Indi Go Artist Co-Op, 9 E. College Ave., C.
Muneses, a former student of the University of Illinois, is a saxophonist, teacher and arranger who exists in South Elgin and controls the South Elgin High School Jazz Combo.
Brought up in Decatur, Muneses was the 2012 Jazz-Phil USA Competition victor and is a Bari Woodwinds supporting craftsman. His degrees are in saxophone execution from Illinois State University and jazz execution from the UI.
His quintet parts will be Zubin Edalji, trumpet; Sam Hasting, guitar; Mike Harmon, bass; and Matt Carroll, drums.
Workmanship scene
CHAMPAIGN — Peoria-based craftsman David Gregory will demonstrate his work from Thursday through Oct. 1 at the Indi Go Artist Co-Op, 9 E. College Ave., C. The gathering will be from 1 to 3 p.m. Sunday.
Gregory started his craft preparing in the School of Architecture at the University of Illinois yet in the wake of seeing a show of Midwest scenes by then UI craftsmanship Professor Billy Morrow Jackson he chose to study painting. He selected in Jackson's classes. After Gregory left the college in 1977, Gregory got private investigates from Jackson, who passed on in 2006.
Gregory paints a mixed bag of subjects yet concentrates on scenes and city scenes. He revels in heading out to discover new scenes to paint. Late ventures out took him to Venice and Florence, Italy.
Over a 35-year profession he has made more than 4,000 canvases and etchings. To see his work go to davidgregorystudio.com/.
Walking on
CHICAGO — The Marching Illini will perform Sunday at Soldier Field in Chicago amid halftime of the Chicago Bears and Green Bay Packers amusement. After the halftime execution, the Marching Illini will perform conventional, halftime and fan top choices at 3 p.m. at Navy Pier.
The music really starts before the amusement, at 10:30 a.m. at the point when the Marching Illini Drumline performs with the Chicago Bears Drumline at Gate O outside Soldier Field. Twelve is the kickoff time for the diversion.
Amid halftime, the Marching Illini will perform the music of Queen and "Hunker down Chicago Bears."
Workmanship classes
DANVILLE — The Danville Art League will offer after-school workmanship classes and in addition craftsmanship classes for kids who are self-taught.
The classes run from Monday through Nov. 17. The classes for self-taught youngsters will meet from 1 to 3 p.m. Mondays; the after-school classes for kids in kindergarten through third grade, 4 to 5:30 p.m. Mondays; and for understudies in evaluations four through six, 4 to 5:30 p.m. Wednesdays.
The charge is $50 for the first kid and $25 for every extra kid in a gang. The youngsters and their guardians don't need to be Art League parts to take the classes. The classes will be at the association assembling, 320 N. Franklin St.
For more data, call 442-9264 or visit danvilleartleague.com.
Plan showcase
CHAMPAIGN — For the second year, the Champaign-Urbana Design Organization will have the CUDO Pro Show at the Indi-Go Artist Co-Op in Champaign to showcase nearby expert configuration.
Intrigued configuration and imaginative experts are urged to submit work by 5 p.m. Oct. 24 for the show. CUDO parts may submit up to three entrances; the first is free and every extra passage is $15. Nonmembers may submit up to three entrances at $15 every; the first nonmember entrance incorporates a CUDO Friend participation. Principles and the entrance structure are at thecudo.org/proshow.
The 2013 Pro Show drew more than 115 sections.
The CUDO Pro Show, which will be interested in the overall population, will commence with a gathering from 5 to 9 p.m. Nov. 14 that will incorporate refreshments, light snacks and unrecorded music by the Desafinado Trio. The show will stay open through Nov. 25.
Theater scene
URBANA — The What You Will Shakespeare Company will have a tryout from 6 to 10 p.m. today for the last show of its fall season: "The Complete Works of William Shakespeare (Abridged)."
The tryouts will be in Room 150 English Building, 608 S. Wright St., U, on the University of Illinois yard. The comic drama will be introduced Nov. 14 and 15.
"The Complete Works of William Shakespeare (Abridged)" is a foolish, semi-extemporized, high-vitality indicate in which six to conceivably eight entertainers attempt to put on the majority of Shakespeare's plays in 90 minutes.
No readiness is important to tryout. Individuals needing to tryout are asked to stop by Room 150 Wednesday night, round out a trial structure, read a few lines and play some improv recreations with the creation group. They likewise are asked to RSVP on the theater organization's Facebook page.