Any aficionado of South Indian cuisine can't fail to be charmed by the delectable culinary delights of Kerala. Sumptuous spicing, succulent seafood and a creative use of local ingredients are the trademarks of Keralan cuisine. However, despite the focus on the flavoursome vegetarian fare that is so prevalent in the southern states of the sub-continent, there are more than a few meat-based specialities in Keralan cuisine to keep even the most dedicated carnivores content.
Although the long, golden coastline of the sunshine state offers up an abundance of seafood and has contributed to many of the key specialities you can experience in Kerala, there are also mutton, chicken, pork and beef dishes on offer in this part of India, thanks to the mix of different religions and ethnicities that have settled in this region. The meat dishes of Kerala are hugely influence by faith – Hindus generally avoid meat entirely, although this does vary depending on personal belief. However, even Hindus that do eat meat tend to eschew beef due to the holy status of the cow. In contrast, Muslims will consume beef but not pork, whilst Brahmins and Jains follow a strict vegetarian diet. The culinary influences from these different cultures are what makes Indian cuisine such a varied and unique gastronomical experience.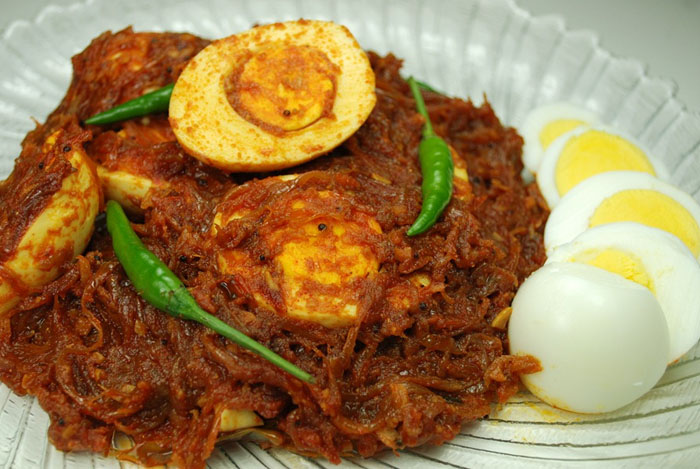 So, what sort of meat dishes are popular in Kerala?
Perhaps the most famous is the thalassery biryani, a fragrant rice dish featuring either mutton or chicken. Cooked with khaima rice instead of the typical basmati, this version of the biryani is aromatic, nutritious and deliciously flavoursome.
Another meat-based delicacy you might encounter in Kerala is the meat stew known as 'eshtu'. This curry is cooked with beef, mutton or chicken and flavoured with the distinctive aroma of curry leaves as well as lashings of thick and creamy coconut milk. A variety of fragrant whole spices are added to add depth of flavour to the dish, producing a meat-based treat that's hard to resist.
India loves its curries and Kerala is no exception. Another popular meat curry in this part of the country is nadankhozhi, a chicken and coconut curry, infused with an abundance of heavy spices to form a comforting and richly flavoured recipe.
Those that really feel a meal simply isn't complete without a little meat won't be disappointed by the local speciality erachiularthiyathu. This meat-heavy dish provides a combination of both beef and chicken, fried in a variety of spices, onions and curry leaves with a generous squeeze of lemon juice and plenty of hot chillies for an added kick.
Indian cuisine is adored by foodies around the world due to its inventive flavours and long list of dishes. Experience this for yourself with a visit to one of London's best Indian fine dining restaurants. With impeccably designed menus based on all the flavours of India and sumptuous settings that invoke all the allure of the east – these innovative establishments allow you to sample some of the very best in authentic Indian cooking, spiced up with a creative, contemporary twist.