CopyTrophy is a leading manufacturer and supplier of Replica Trophies in United States. Our catalogue of products includes American Football Trophies, Baseball Trophies, Basketball Trophies, Aussie Rules Trophies and Soccer Trophies. We can confidently claim that the maintenance of trophies and awards is not as difficult as one would imagine. Whether you are custodian of a cabinet of trophies or keep awards on display at home caring of the trophies is a must.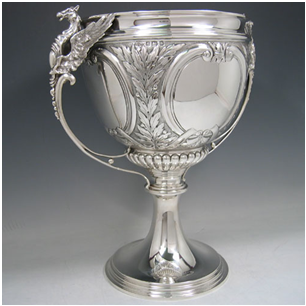 You cannot treat all awards the same. As they are made from different materials and their treatment should be based on the material. To make maintenance easy we have put together this trophy care guide to help you keep your trophy in pristine condition.
Keep Silverware Sparkling
Silver or silver plated trophies are not easy to maintain. Humidity and exposure to air tarnishes silver at much faster rate. We advise to keep your silver trophy in a glass cabinet. Glass cabinet will also prevent contact with other harmful substances like smoke or water. Also put some desiccated silica gel to avoid moisture buildup in glass cabinet that can damage silver. The replica trophies we produce are mostly nickel silver coated that makes them resistant to most of the damage from environmental factors.
Nickel Silver Finish
For removing fingerprints and greasy marks from your trophy make use of simple warm water and soap. Although it may seem strange, ''especially if the wife catches you'' taking the trophy in the shower and giving it a once over with a soapy sponge works wonders. For a full polish I use liquid Brasso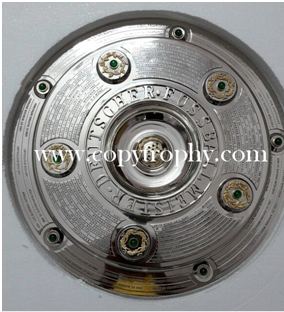 Brasso is a mild polish and has no abrasive properties. (TIP) Work with small areas around 4 inch square. Apply the Brasso to a damp cloth and the area will begin to mist over. For easier buffing do not allow the Brasso to fully dry or remain on the trophy for any length of time. It becomes difficult to remove and the Brasso will dry in all the nooks and crannies. It is almost like applying with one hand and buffing with the other.

Spruce Up Stainless Steel Awards
Stainless steel trophies are a lot easier to maintain. As steel is tougher than silver you will find it extremely easy to clean. Just use lukewarm soapy water to clean the stainless steel trophy. However don't ever try to pop your trophy in dish washer for easy cleaning it will leave some nasty marks.
Clean Trophies Made from Wood
Dust wooden trophies regularly to keep them new. Also polish them occasionally to retain their glimmer and shine. Use little furniture polish to get an appealing sheen. Apply polish with a soft cloth. Termites pose a great danger for wooden trophies. If you have termite infestation where you keep your wooden trophy make use of termite resistant polish.
Gleaming Glass and Crystal Awards
Glass trophies are extremely popular as they are eye catching and practical. Also they are simple to clean. Glass cleaner are easily available with general stores and they come handy to tackle stubborn dirt. You can also use soapy water for removing light marks.
Keep Plastic Trophies Spotless
Cheapest and simple, plastic trophies are designed to be practical and easy to look after. There are a whole lot of options to clean plastic trophies. Water and soft cloth will do the trick. However refrain from using anything abrasive as it can leave serious scratches.
Thiswill help you to keep your trophies looking Awesome irrespective of their material.