Most people have heard of Bryan Adams, thanks to his enormous success as a musician and songwriter. But how much do you think you know about him beyond that familiar and powerful voice?
Anyone who has been on the music scene since the mid-Seventies is likely to have achieved a lot in the intervening years. After all, we're talking about four decades of activity here. So what has Bryan Adams, the Canadian star, achieved in those four decades?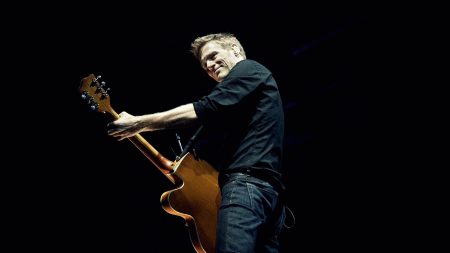 Around the word who follow music and for those who don't for that matter; the song 'Summer of 69' by Bryan Adams is heard by one and all. He is perhaps best-known for (Everything I Do) I Do It for You, which was released in 1991 and has sold around eight million copies since. This makes it a best-seller and it was at number one in the UK for many weeks – sixteen in total. It was used in Robin Hood: Prince of Thieves and it also appeared on Waking Up the Neighbours, the sixth album Bryan Adams would release in his career. This ended up selling 16 million copies and then some, partly as a result of the best-selling single. Indeed, the album turned out to be the most successful Adams had released up to that point. It managed to get the number one spot in the album charts in no fewer than eight major countries. It also garnered many platinum and even diamond record certifications as a result.
For someone who has been active in the music industry for many years, Bryan Adams has certainly put in the hard work on tour as well. His first tour was in 1981, and was called the 'You Want It You Got It Tour'. He has toured extensively since then, including the Waking Up the World Tour that took place from 1991 to 1993. This included singles and songs from his Waking Up the Neighbours album and the by-now famous single from Robin Hood: Prince of Thieves.
More recently he has revisited this album, making Bryan Adams tickets available for the 20th anniversary of that album from 2011-2012. The 30th anniversary of another album, Reckless, was also celebrated in the Reckless 30th Anniversary Tour, which began in 2014. You may be lucky and be able to get Bryan Adams tickets for this tour as well, because it has been slated to continue well into 2015.
Clearly Bryan has had some notable success over the years. Besides a total of 12 studio albums he has also released 69 singles so far. As is the case with anyone who has been in the business for several decades, you can also find five compilation albums in his back catalogue. The same can be said of his live albums, of which there are also five.
As you can see, Bryan Adams has achieved a level of success some artists can only dream of. Would you be in a position to enjoy seeing him live? It all depends on getting some great tickets in the near future, so watch out for those now.