A trip with friends is a lot of fun. It is filled with lots of pranks and fun games. A trip to Goa is a fantasy of every college going student. Your college life feels incomplete if a Goa trip is not a part of it. Therefore, Goa is a very happening place to go on a trip with friends. Whichever part of India you belong to, a Goa trip is a must. What are you waiting for? Just book your Delhi to Goa flights and swoosh to Goa. Lots of fun is awaiting you.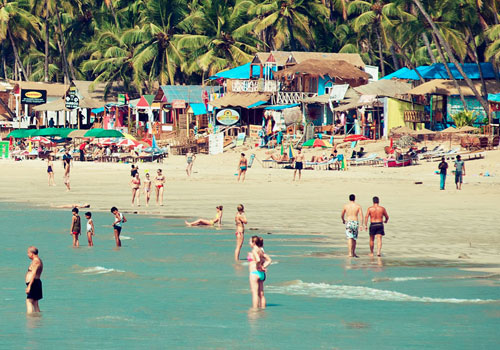 Amazing facts about Goa
Goa is the smallest state in India, but the most interesting part is it has the highest per capita income.
Asia's only Naval Aviation Museum is in Goa
Goa is the only place where you have a two-wheeler taxi service. This is the only place where you can ask a biker for a lift and pay him for that.
The first English medium school was set up in Goa during the colonial rule
The famous Basilica of Bom Jesus church has the non-decomposing body of St. Francis Xavier. This body was brought to this church in 1553. Since then, the body is preserved in a glass case.
Goa has the most famous churches in India. Some of them are Se Cathedral, Church of St. Francis and Assisi, Immaculate Conception Church, St. Alex Church, Three Kings Chappel, etc. Every church has its own historical significance and a story behind them.
It is the only state in India which has two official languages. Konkani and Marathi.
Goa is a place which has the most number of Bars in India. It had around 6000 licensed bars.
Goa is India's most forested state. More than 30 percent of Goa is covered with forests.
Explore Goa
Goa is a place which has numerous tourist spots. It is a false assumption of people that Goa has only Churches and beaches. It has many other places to visit too. So, stop thinking, book your Delhi to Goa flights and start exploring Goa. Here are few very well known places which you must never miss out on visiting.
Calangute beach
It is one of the most popular beaches in Goa. It is the largest beach of Goa.This place will let you enjoy the serenity of the sea, with all the fun of a beach. 
Fort Aguada
This is a very majestic 17th Century Portuguese fort.
Deltin Royale Casino
Want to try your luck? This place is just what you were looking for. This place provides 24 hours non-stop fun. You can drink, dance, play and try your luck here
Basilica Bom Jesus Church
As mentioned before this place has the nondecomposing body of St. Francis Xavier preserved from 1554.
Dudhsagar falls
This place can be defined as nature in its complete glory. It is one of the most spectacular waterfalls of India.
Chapara fort
This is another gigantic fort in Goa. Many Bollywood movies were shot here.
Pandava caves
This is another witness of miracles of nature. It is one of the most beautiful places in India.
To conclude, if you visit all these places in Goa, and live every moment of the trip to the fullest, surely this trip will be your dream Goa trip.