A love of travel can take an avid adventurer to every corner of the globe, but eventually we're all left asking the same question- where am I going next? Fortunately, the world is full of gorgeous, exciting and fun places to explore where travelers can find their next great adventure, new favorite restaurant, awesome hiking trail or stunning mountain peak.
Thinking outside the box is key when choosing a destination to satisfy your wanderlust; a simple drive to the beach just won't do when you're thirsting for some real adventure. Here are four amazing destinations for globetrotters who are wild at heart.
Visit an Eco Base Camp in Greenland
Known for gorgeous natural landscapes, beautiful snow capped mountains and the incredible Greenland sea, the beautiful Arctic country of Greenland offers vacationers a plethora of incredible landscapes to navigate with plenty of adventure to be had. Some visitors choose to visit eco base camps, like Olaf Marver's camp set on the Sermilik Fjord. While staying there, travelers will experience breathtaking views of the powerful coastline and steep mountain peeks that the nation is known for. With temperatures rarely climbing above 50 degrees at any time of year, be prepared to bundle up- but know that a polar bear sighting may be in your future.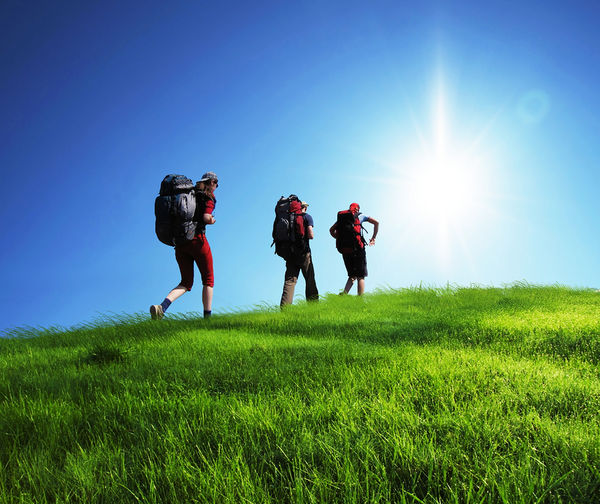 Sail To The Most Secluded Place On Earth
For many adventurous travelers, the hustle and bustle of crowds in resorts and malls is enough to drive a person crazy. If you are someone who loves to be alone with nature, the overseas British territory of Tristan da Cunha is accessible only by sea. The tiny island, located more than 1,700 miles off the coast of Africa, does not have an airport to facilitate travel.
This makes getting there an even greater achievement of adventure than many other destinations, as travelers arrive via sea to break bread with the islanders that live there; the population of the island is less than 300, making the island a realistic option for a secluded adventure vacation.
Take An Extreme Whitewater Rafting Trip To Patagonia
With its gorgeous aquamarine shade accented by the rocky cliffs of the Andes mountains, Rio Futaleufú is a beautiful destination for an adventurous traveler- but it is not a river for beginner rafters. The stunning river has a strong current which provides challenges to even the most seasoned water adventurers, but the journey is an incredible one that can't be replicated anywhere else on Earth. Already a popular destination among vacationers young and old, Patagonia offers some of the most incredible natural vistas you could hope for with rapids so strong they would make your mother blush.
Climb The Intensely Rocky Peaks Of New Zealand
Perhaps best known for its pastoral greenery and scenic farms, New Zealand has plenty to offer even the most experienced of global adventurers. Incredible mountain climbing excursions are an increasingly popular experience for their incredible views and chance to go toe to toe with a rugged landscape that provides climbers with endless challenges. Clear coastal air and magnificent ocean views await you and a guide as you explore the peaks on multi-day climbing excursions.
Many of the snowy peaks offer skiing as a relaxing recreational option on your scenic adventure, with varying difficulties available to meet your desired course and overall skill level.
This article was written by Ryan Thomas for Rocky Mountain Whitewater Rafting. Rocky Mountain Whitewater Rafting has guided thousands of whitewater rafting trips on Clear Creek and throughout Colorado.